Dominik Lang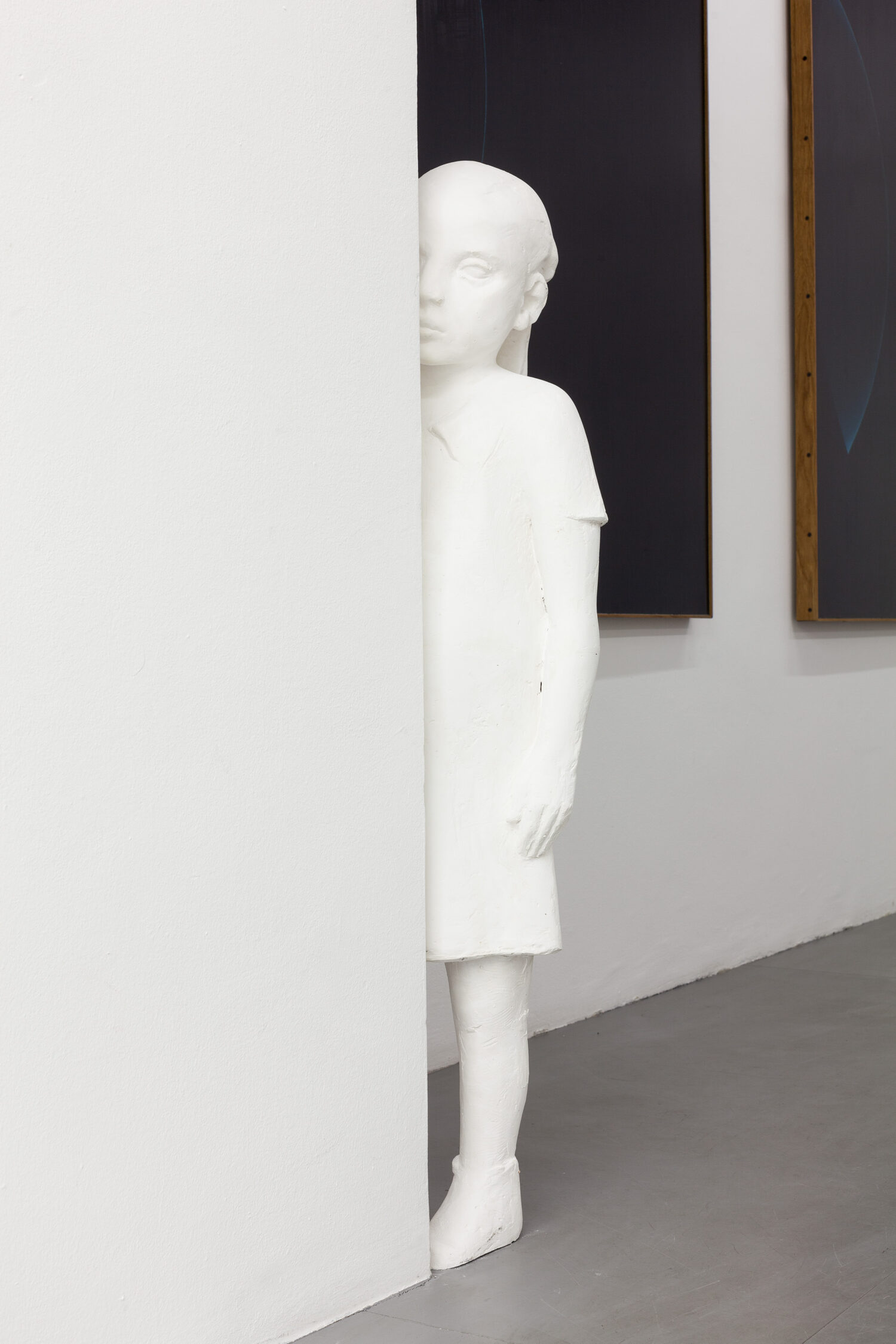 Dominik Lang's development from his groundbreaking Sleeping City, presented at the 54th Venice Biennale in 2011, to A Girl with a Pigeon, presented 2015 at the Monash University Museum of Art, Melbourne,we need to highlight a difference in his handling of the estate of his father, Jiří Lang. Both projects centre on one sculpture – Jiří Lang's modernist A Girl with a Pigeon from the late 1950s – but the approaches adopted in the two installations are distinct from one another. In Venice, the artist placed fragments of his father's sculpture in two glass showcases, which when viewed from a certain angle allowed the work to be seen as an integral whole; in the Melbourne exhibition, he has joined the two parts in a single showcase, leaving the glass cube open (previously it was closed), so that the figure of the girl can descend into the exhibition space. The girl watches the pigeon from a distance. She feeds it. She looks for the bird as it escapes to the ceiling. She and the pigeon sit face-to-face at a table. They fall asleep together on a bed. The figure, originally seated, is used to produce the mould for several plaster casts in modified positions and with changes of gesture. We see the girl sitting, standing, kneeling, lying. We watch her, with her hands falling freely along her torso, with one hand behind her back, propped against a table, propped against the wall. Often the casts are split into segments: the hand, which the sleeping girl has under her head, is fragmented into three, and even the seemingly natural upright figure has a deep rift in her belly, a consequence of the 'righting' procedure. The disconsolate, moribund character of the girl with a pigeon is paradoxically complemented by the numerous casts. At first glance, the repetition and the spatial insulation of the plaster figures might remind us of minimalist works of the 1960s. Even though Lang presents us with figural works rather than 'specific objects', their significance – as in minimalism – has an outward bent and is co-constituted by the viewer.
Text: Karel Císař

More…
Less…
Biography
Dominik Lang
Lives and works in Prague, Czech Republic.
1980 born in Prague, Czech Republic
Studied in Jiři Přihoda's Spatial Art studio at the Academy of Fine Arts in Prague.
2006/07 Cooper Union in New York, USA
2006 Assistent of Ai Weiwei in Beijing
2010 PhD at Jan Evangelista Purkyně University in Usti nad Labem
2007-2011 Curator of the Jeleni Gallery at Center for Contemporary Arts
2012 with Edita Jerabkova, heads up the sculpture studio at the Academy of Fine Arts Prague
Curatorial activities
| | |
| --- | --- |
| 2014 | Art and Shadow, with Edith Jeřábková, Nod Gallery and the Czech Center gallery, Prague, CZ |
| 2013 | Lapidarium, with Edith Jeřábková, Betlémská kaple, Prague, CZ |
| 2007-2011 | curator of the exhibition program at Galerie Jelení, Prague, CZ |
| 2007 | curator of the exhibition Improved Model, Round Effect, NoD galerie, Prague |
More…
Less…
Awards and Grants
| | |
| --- | --- |
| 2015 | Berlin-Stipendium, Akademie der Kunste, Berlin, DE |
| 2014 | Residency stipend, ISCP, New York, USA |
| | Artist of the Year, awarded by Art&Antiques Magazine, Prague, CZ |
| 2013 | Winner of the 2013 Jindřich Chalupecký Award for Young Artists in the Czech Republic |
| 2010 | Artist Residency, Duende Gueststudios, Rotterdam, NL |
| 2008 | Artist residency, Zamek Ujazdowski, Warsaw, PL |
| 2007 | Leif Rumke Preis, DE |
| | Artist residency, IMPEX, Budapest, Hungary |
| 2005 | International Summer Academy of Fine Arts, Salzburg, DE |
More…
Less…
Solo Exhibitions (Selection)
| | |
| --- | --- |
| 2017 | Dominik Lang, "Girl with pigeon and its copies", Krobath Wien, 2017. |
| 2016 | Dominik Lang: Haus der Wohnirrtümer / Dům bytových omylů. Tschechisches Zentrum Berlin.http://berlin.czechcentres.cz/programm/event-details/dominik-lang3/11.02. – 09.04.2016. |
| 2015 | Dominik Lang: Girl with Pigeon, Monash University Museum of Art | MUMA, Caulfield East, Melbourne |
| | Dominik Lang: Bone Collectors, Hunt Kastner, Prague |
| | Dominik Lang, Difficulties of the Chess Composer, Elba Benitez,Madrid, ES |
| | Naked Figures, Dressed Figurines, The Gallery Apart, Rome, IT |
| 2014 | Dominik Lang. Winner of the Jindřich Chalupecký Award 2013, Veletržní Palace, Prague |
| | Wasteland, with Eva Koťátková, Projects Art Centre, IR |
| | Desks and Boards, curated by Charlotta Kotik, Gallery Czech Centre, New York, USA |
| | Waiting Room, Prague National Gallery at The Trade Fair Palade, Prague |
| | Opravář | Repairman, with Eva Koťátková, Lednička Miry Gáberové, Prague |
| 2013 | "Dominik Lang – Procházení Zdí", House of Art, Budweis |
| | "Dominik Lang. Missing Parts", The Gallery Apart, Rome |
| | "Dominik Lang. Expanded Anxiety", Secession, Vienna |
| 2012 | "Humble Objects", Kunsthaus Dresden |
| | Images from Exhibition, Galerie Caesar, Olomouc |
| | "The Lovers", Krobath Wien |
| | "Dominik Lang: Investigation the Cause", Veletržní Palace, National Gallery, Prague |
| | "Working Model – Art Statements", Art Basel |
| | Hunt Kastner, Prague |
| 2011 | "Private Collection", Krobath Berlin |
| | "Sleeping City", Czechoslovak Pavilion, 54th la Biennale di Venezia, Venice |
| | Local Museum, Galerie Kabinet T, Zlin |
| 2010 | Wall, Gallery 99, DUMB: Brno House of Arts, Brno |
| 2009 | "Storage", Karlín Studios, Prague |
| | "Architect (a selection of works)", Gallery 99, DUMB: Dům umění v Brně, Brno |
| | "Visitor", Galerie Na bidlýku, Brno |
| | "Place for a Viewer, the Atrium at the Moravian Gallery, Brno |
| | "Three-Dimensional Geometry", GNF, Ústí nad Labem |
| 2008 | "Between", (artist residency project), Zamek Ujazdowski, Warsaw |
| 2007 | "Things for Viewing and Walking Around", (artist residency project), IMPEX, Budapest |
| 2006 | "Space Imagination", etc. galerie, Prague, CZ Give Me the Brick, WNOD gallery, Prague |
| 2005 | "Czech Republic", Gallery Jelení, Foundation and Center for Contemporary Art Prague, Prague |
| | "We Did Almost Everything" (with Jiří Thýn), Entrance Gallery, Prague |
| | "Shopping Bag", Preproduction space – gallery, Berlin |
| | "If this Procedure Should Fail, We Will Try Another" (mit Eva Koťátková), Galerie im Alcatraz, Hallein |
| | "VAU !", Gallery Jeleni, Foundation and Center for Contemporary Art Prague, Prague |
| | "Cottage Settlement", Gallery of Young Artists, Brünn |
| 2004 | "Dyzajn blok", Goethe-Institut, Prague |
More…
Less…
Group Exhibitions (Selection)
| | |
| --- | --- |
| 2022 | Curated by "KELET", Gallery Krobath Vienna |
| 2016 | "LABOR RELATIONS. FROM THE INTERNATIONAL CONTEMPORARY ART COLLECTION OF WROCŁAW CONTEMPORARY MUSEUM", Wrocław Contemporary Museum, Polen |
| | Printemps de Septembre, Toulouse, FR |
| 2015 | The Structural Geology of Memory / Tektonika paměti, curated by Lucie and Anna Vartecka, Brno House of Arts, Brno |
| | Silver Lining – 25 Years of the Chalupecky Award, Prague National Gallery, Trade Fair Palace, curated by Adam Budak and Jen Kratochvil |
| | The Structural Geology of Memory / Tektonika pameti, curated by Lucie and |
| | Corridor, curated by Lydia Pribisova, Tranzit.sk, Bratislava |
| | public art project: Station Heaven, with Eva Kotatkova, Plzen Main Train Station |
| | Notes on Sculpture, curated by Friederike Nymphius, Krobath, Vienna, AU |
| 2014 | The Structural Geology of Memory / Tektonika paměti, curated by Lucie and Anna Vartecka, Galerie Emil Filla, Ustí nad Labem |
| | Kdo na moje místo | Who in my place, curated by Zbyněk Baladrán and Marek Pokorný, galerie Gong, Ostrava City Gallery |
| | Ce que raconte la solitude, curated by Elena Lydia Scipioni, Art-orama, Marseille, FR |
| | Bílá tma | White Darkness, curated by Radim Langer, Galerie Etc, Prague |
| | Beginning of the Century, curated by Pavlina Morganova, Ostrava Regional Gallery |
| | Dominik Lang, Sao Paulo Bienal 2014, Galeria Lago, Inhotim, Brazil |
| | "EVA KOTATKOVA & DOMINIK LANG", Project Arts Centre – Gallery, Dublin |
| 2013 | I Salute the Potter's Clay, with Tom Godfrey, Karol Radziszewski, Marie Lund, Yonatan Vinitsky, curated by Eve Smith and Gemma Lloyd, Czarna Gallery, Warsaw, PL |
| | "From Now On Everything Will Be Beautiful… "- Kisterem, Budapest |
| | "Artists for Tichy – Tichy for Artists", GASK – Galerie Středočeského kraje, Kutná Hora |
| | Collection Joseph Kouli – Mains d'oeuvres, Saint Ouen |
| | "émoi & moi", MAC/VAL Musée d'art contemporain du Val-de-Marne, Vitry-sur-Seine |
| 2012 | The Beginning of the Century, curated by Pavlina Morganová, Pilsen Regional Museum, Pilsen |
| | Intense Proximity, La Trienniale, curated by Okwui Enwezor, Palais de Tokyo, Paris, FR |
| | Islands of Resistance: Between the First and Second Modernity, 1985-2012, curated by Edith Jeřabková, and Jiří & Jana Sevčik, Prague National Gallery at the Trade Fair Palace, Prague |
| 2011 | "Auxiliary Constructions – Behilfskonstruktionen", Kunsthaus Dresden – Staedtische Galerie fuer Gegenwartskunst Dresden |
| | "Finalists of the 2011 Jindřich Chalupecký Award", Dox, Prague |
| | "Les amis des mes amis sont mes amis, hommage a Ján Mančuška", Galerie Jocelyn Wolff, Paris |
| | "Sculpture in the Street", DUMB: Dům umění v Brně, Brno Zentrum (mit M. Geiger & M. Mazanec), Czech Center Vienna & Austrian Cultural Forum, Prague |
| | "The Art of Urban Intervention", Emil Filla Gallery, Ustí nad Labem |
| 2010 | "Don't Forget the Flowers", Moravian Gallery, Brno, CZ |
| | "One Day You Will Lose It All", 4+4+4 Days in Motion Festival, Prague |
| | "5th Biennale of Young Artists", House of the Stone Bell, Prague City Gallery City, Prague |
| | "Dziewiec tytulow", BWA Zielona Gora |
| | "Boundary", Gallery NoD, Prague |
| 2009 | After Velvet, Prague City Gallery, House of the Golden Ring, Prague |
| | White Paper, Black Bride, curated by Jiří Kovanda & Edita Jeřabková, Flashart Biennale 4, Karlín Hall, Prague |
| | Zlin salon of Young Artists, Zlín |
| | Easy Actions Without a Clear End / Azioni molto semplici senza uno scopo preciso, Artra, Milano, IT |
| | Lived In Spaces, Krajska galerie Zlín |
| | Memories of the Future, curated by Karel Císář, Galerie Vacláv Špála, Prague |
| | Brno Art Open 2009, DUMB: Dům umění v Brně, Brno |
| | "Vides (Empty spaces)", Centre Pompidou, Paris |
| 2008 | "Bewohnte Orte, Illusionen über die Stadt und das Land", Kunstverein Springhornhof, Neuenkirchen, Neuenkirchen |
| | "Love at First Site", Gallery Futura, Prague |
| | "MANUAL CC, Instructions for beginners and advanced players", CSW Centrum Sztuki Wspolczesnej / Centre for Contemporary Art Ujazdowski Castle, Warsaw |
| | "Contemporary Czech Cubism", Old Town Hall, Prague City Gallery, Prague |
| | "Move On", Galley Futura, Prague, CZ Výstava Humhala, Galerie Jelení – Center for Contemporary Art, Prague |
| | "Archive", (mit Jiří Hůla), inaugural exhibition of DOX – Centre for Contemporary Art, Prague |
| 2007 | "GNP2", Mars Gallery, Moscow |
| | "Hygiena", Galerie Puda, Jihlava |
| | "The Collectors: Live Re-Edit", Dům panů z Kuštát, Brno |
| | Glocal Outsiders, curated by Jiří David & Vasil Artamonov, Praguebiennale 3, Karlin Hall, Prague |
| | "Leif Rumke Award", ZKMax, Munich, DE Praguebiennale 3, Karlin Hall, Prague |
| | "GNP", Municipal Library, Prague City Gallery, Prague |
| | "Invisible Things", Trafo Gallery, Budapest |
| | "Essl Award Finalists", Gallery at the Academy of Fine Arts, Prague |
| 2006 | "Sell Me Buy Me", galerie U dobrého pasťye, Brno |
| | "Finalists of the 2006 Jindřich Chalupecký Award", DUMB: Dům umění v Brně, Brno |
| | "I Invited a Few Friends to Come and Watch", Galerija Nova / Galerija M. Kraljevice, Zagreb |
| | "Indikace", 4+4+4 Days in Motion Festival, Prague |
| | "Martian Fields", Galerie Mars,Moscow |
| | "Eternal States", Karlín Studios, Prague |
| | "Gorkiewicz, Cheek, Lang, Meduna, Petiletá, Wolff", Austrian Cultural Forum, Prague |
| | "Office Art", galerie c2c, Prague |
| | Gallery Continua, 798, Peking, China Tannoy, Terrace, London, UK |
| | "The Enormous Space", Galerie C2C, Prague |
| 2005 | "1811197604122005", Plan B, Cluj |
| | "Essl Award Finalists", Academy of Fine Arts Gallery, Prague |
| | "Fear in the City", Galerie kritiků, Prague |
| | "Contact 2005", Galerie Klatovy, Klenová |
More…
Less…
Publications, Catalogues
| | |
| --- | --- |
| 2012 | "Der heimliche Raum", Tagesspiegel, Berlin |
| | Revue 29-30 Labyrint, Praha |
| 2011 | Dominik Lang – Private Collection, Berlin Art Jourmal |
| | Dominik Lang – The Sleeping City, Praha |
More…
Less…