Julian Opie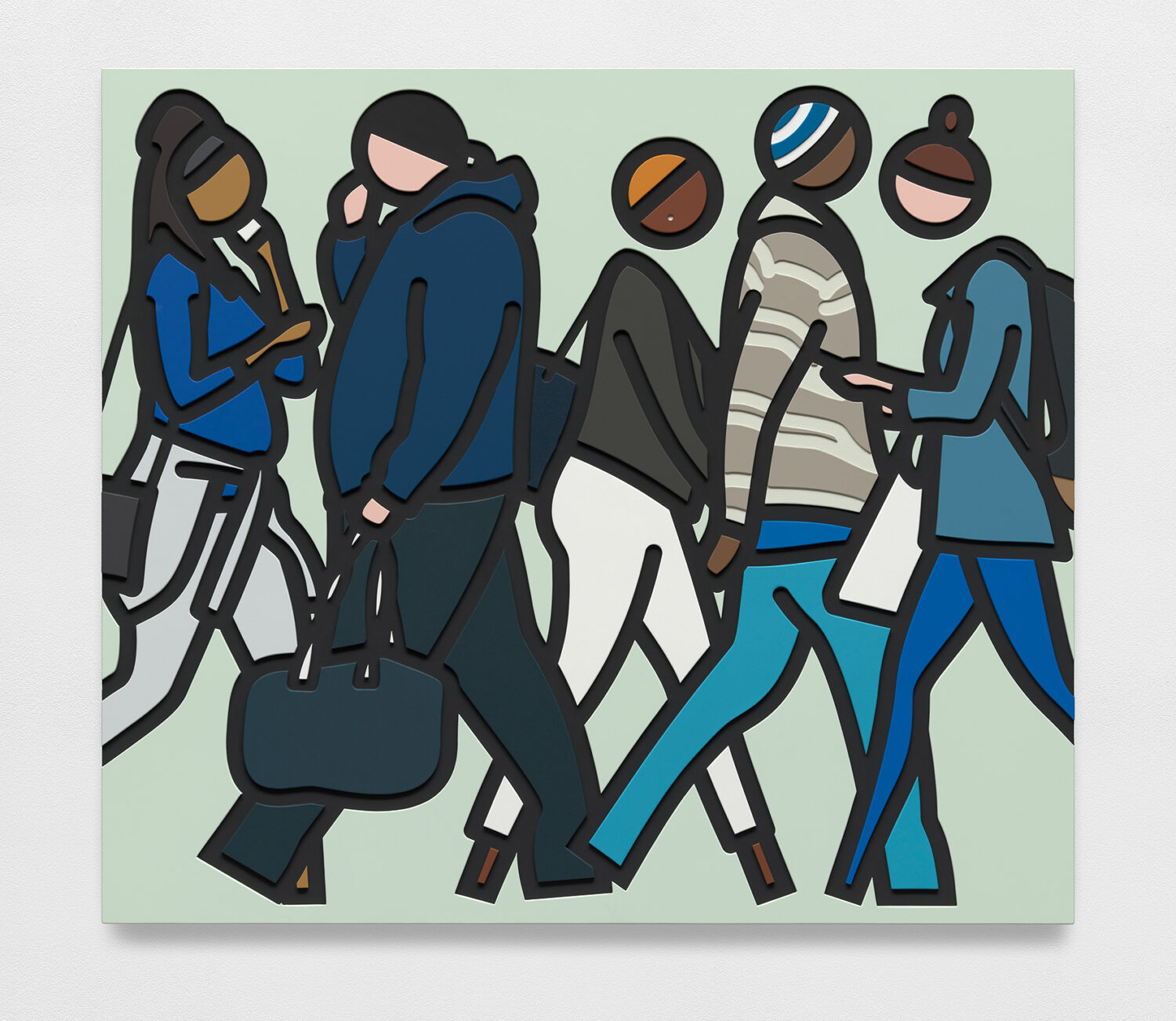 "I prefer to look at a moving landscape, seen from a train or car or walking. This way I can feel the space and get an impression of overall colour without focusing on any particular incident or detail. When I enter a grand museum I like to stand near the entrance and take in the large, dark rectangles in frames that hang on the walls like windows, to see the paintings as objects – rich browns in shining gold surrounds. Seen like this they become classic types, figures in a landscape, nudes, head and shoulder portraits, historical scenes. You can walk into a party and see an old friend or simply take in the jumble of human forms, the mass of heads and hairstyles. Stand on a street corner and look for directions or simply take in the seemingly choreographed dance of the passing crowd. One of those people in the passing crowd, singled out, zoomed in on, might perhaps look like one of these portraits, true to the situation, part individual, part type.
I am showing paintings from three different series; the first were photographed with a still camera on the streets of Seoul by a hired photographer. I chose individuals from the thousands of passing figures and then edited the original full-length paintings I made down to the heads alone. The second group are from a series of films I made of people who were passing outside my studio. I invited them in and videoed them for a small fee. After making the animations I zoomed in on the heads and then later made the last set by editing these drawings even further into something more like a sign language. In each case the portraits are in profile suggesting that the characters are unaware of their audience and are simply passing by.
Portraiture is the most common and the most utilitarian of art forms. A portrait has a job to do and acts as a kind of mirror to the viewer, a head looks at a head. This allows me to try different experiments with combinations of subjects, materials and processes. The Seoul series is more detailed and needs the immediacy and clarity of a flat system of painting. I have used computer cut vinyl and inkjet printing to make works that seem close to billboards and book covers. The invited studio models are simpler images and this allows me to combine them with a metal structure that has a raised black line and hand painted colours. The relief system and colours are taken from ancient Egyptian art. The last, most simple set can be read so quickly that it allows me to use a thick, spray painted metal structure, like the side of a ship, with colours based on road and public safety signs.
Scale, surface, expense, weight, reference, threat, subject, all these things register immediately when you look at an object. These are the elements that can be combined and juggled. I gather observations from the world around me by drawing and photographing and remembering what stands out to me and then try to make objects that maximise and combine the observations. I don't have a set agenda or purpose or message, I jump on possibilities as they unfold. By combining the look of marble Roman heads on museum plinths, a passing street crowd, public display systems, old master portraits and children's wooden toy figures, I arrive at the last group of small sculptures in the show where the heads are on plinths instead of hung like paintings on the wall." 
Julian Opie
Text  zu Einzelausstellung bei Krobath Wien, 2016
Mehr…
Weniger…
Biografie
Julian Opie
lebt und arbeitet in London, UK.

1958 geboren in London, UK
1979-82 Goldsmith's School of Art, London
Preise
2001 Music Week CADS, beste Illustration für "Best of Blur"
1995-96 Residenz im Atelier Calder in Saché, Frankreich
1995 Sargant Fellowship an der British School in Rom
Einzelausstellungen (Auswahl)
| | |
| --- | --- |
| 2023 | OP.VR@LISSON/London, Lisson Gallery, UK |
| | Mango Museum, Changsha, China |
| | Lisson Gallery Beijing, China |
| | He Art Museum, Shenzhen, China |
| | Galleri F15, Moss, Norwegen. |
| | Galleria Valentina Bonomo, Rom, Italien |
| | Kukje Gallery and F1963, Busan, Südkorea |
| 2022 | Solo exhibition, Krobath Wien, AT |
| 2021 | Lisson Gallery Cork Street, London, UK |
| | City of Valencia, Spain |
| | Patrick De Brock, Knokke, Belgium |
| | Pitzhanger Manor & Manor, London, UK |
| | Cristea Roberts, London, UK |
| | Kukje Gallery, Seoul, South Korea |
| | Gerhardsen Gerner, Oslo, Norway |
| 2020 | Berardo Museum, Lisbon, PT |
| | Galeria Duarte Sequeira, Braga, PT |
| | Lisson Gallery, Shanghai |
| 2019 | Eden Project, Cornwall, UK |
| | Lisson Gallery, New York, USA |
| | Gerhardsen Gerner, Oslo, Norway |
| | Lehmbruck Museum, Duisburg, Germany |
| | Tokyo Opera City Art Gallery, Tokyo, Japan |
| | Krobath Gallery, Vienna, Austria |
| 2018 | F1963, Busan, South Korea |
| | Alan Cristea Gallery, London, UK |
| | Krakow Witkin Gallery, Boston, USA |
| | National Gallery of Victoria, Melbourne, Australia |
| 2017 | Fosun Foundation, Shanghai, China. |
| | Fundacion Bancaja, Valencia, Spain. |
| | "Julian Opie After Van Dyck" National Portrait Gallery, London, UK. |
| | Suwon Ipark Museum, Suwon, Korea. |
| 2016 | Art Geneve, Geneva, Switzerland |
| | Gerhardsen Gerner. Berlin, Germany |
| | Krobath. Vienna, Austria |
| | Maho Kubota Gallery, Tokyo |
| 2015 | ARCO, Madrid, Spain |
| | Mario Sequeira, Braga, Portugal |
| | "Recent Works", Kunsthalle Helsinki. Helsinki, Finland. |
| | Alan Cristea Gallery, London, UK. |
| | Gerhardsen Gerner, Oslo, Norway. |
| 2014 | SCAI The Bathhouse, Tokyo, Japan |
| | "Ikon Icon 2000s", Ikon, Birmingham, UK |
| | MoCAK (Museum of Contemporary Art Krakow), Krakow, Poland |
| | "Julian Opie Collected Works" Holburne Museum, Bath and Bowes Museum, Durham, UK |
| | Gerhardsen Gerner, Berlin, Germany |
| | Krobath Galerie, Berlin, Germany |
| | Channing School for Girls, ARK Gallery, London, UK |
| | Kukje Gallery, Seoul, South Korea |
| | "Winter and other Seasons: Landscapes by Julian Opie", British Council, London, UK |
| 2013 | Barbara Krakow, Boston, USA |
| | Valentina Bonomo, Rome, Italy |
| | Krobath Gallery, Vienna, Austria |
| | Patrick de Brock, Knokke, Belgium |
| | Alan Cristea Gallery, London, UK |
| | Gerhardsen Gerner, Oslo, Norway |
| 2012 | Sakshi Gallery, Mumbai, India |
| | Lisson Gallery, London, UK |
| 2011 | Lisson Gallery, Milan, Italy |
| | National Portrait Gallery, London, UK |
| | Krobath, Berlin, Germany |
| | Alan Cristea Gallery, London, UK (exh cat) |
| | Bob van Orsouw, Zurich, Switzerland |
| 2010 | Barbara Krakow Gallery, Boston, USA |
| | Institut Valencia d'Art Moderne IVAM, Valencia, Spanien |
| | Instanbul Modern, Türkei |
| | Gallery Mario Sequeira, Braga, Portugal |
| 2009 | Valentina Bonomo, Rome, Italy |
| | "Dancing in Kivik", Kivik Art Centre, Osterlen, Sweden |
| | Kukje Gallery, Seoul, South Korea (exh cat) |
| | Sakshi Gallery, Mumbai, India |
| | SCAI the Bathhouse, Tokyo, Japan |
| | Patrick de Brock, Knokke, Belgium |
| 2008 | MAK, Vienna, Austria (exh cat) |
| | Lisson Gallery, London, UK (exh cat) |
| | Alan Cristea Gallery, London, UK (exh cat) |
| | Krobath Wimmer, Vienna, Austria |
| | Art Tower Mito, Japan (exh cat) |
| 2007 | Barbara Thumm, Berlin, Germany |
| | Museum Kampa, Prague, Czech Republic (exh cat) |
| | Barbara Krakow Gallery, Boston, USA |
| | King's Lynn art centre, Norfolk, UK |
| 2006 | CAC, Malaga, Spain (exh cat) |
| | Bob van Orsouw, Zurich, Switzerland |
| | Alan Cristea Gallery, London, UK |
| 2005 | Mario Sequeira, Braga, Portugal |
| | La Chocolateria, Santiago de Compostela, Spain |
| | SCAI the Bathhouse, Tokyo, Japan |
| | MGM, Oslo, Norway |
| | Valentina Bonomo, Rome, Italy |
| 2004-05 | Public Art Fund, City Hall Park, New York City, USA |
| 2004 | Lisson Gallery, London, UK (exh cat) |
| | Wetterling Gallery, Stockholm, Sweden (exh cat) |
| | Kunsthandlung H. Krobath & B. Wimmer, Vienna, Austria |
| | Patrick de Brock Gallery, Knokke, Belgium |
| | Barbara Thumm Galerie, Berlin |
| | Krobath Wimmer, Wien, Austria |
| 2003 | Neues Museum, Staatliches Museum fur Kunst und Design in Nurnberg, Germany (exh cat) |
| | K21 Kunstsammlung Nordrhein-Westfalen, Dusseldorf, Germany (exh cat) |
| | Alan Cristea Gallery, London, UK |
| | Galerie Bob van Orsouw, Zurich, Switzerland |
| 2002 | Rebecca Camhi Gallery, Athen |
| | Mario Sequeira Gallery, Braga, Portugal |
| | Barbara Thumm, Berlin |
| | Barbara Krakow Gallery, Boston |
| | Atelier Augarten, Galerie Belvedere, Wien (exh cat) |
| 2001 | Lisson Gallery, London (ex cat) |
| | Patrick de Brock Gallery, Knokke, Belgien |
| | Ikon Gallery, Birmingham (exh cat) |
| | Wetterling Gallery, Stockholm |
| 2000 | Abbaye Saint-André, centre d'art contemporain, Meymac, Frankreich (ex cat) |
| | Junge Kunst, Wolfsburg |
| | Alan Cristea Gallery, London (exh cat) |
| | SCAI the Bathhouse, Tokyo |
| 1999 | Primo Piano, Rom (exh cat) |
| | Morrison Judd, London |
| | Tensta Konsthall, Stockholm |
| | John Islip Street wall, Tate Gallery, London |
| | Barbara Thumm Galerie, Berlin (exh cat) |
| | Galerie Bob van Orsouw, Zürich |
| | Stadtgalerie am Lehnbachhaus, München (exh cat) |
| | The Lux Centre, London, night time window projections |
| | Barbara Krakow Gallery, Boston |
| 1997 | Gallery Nova Sin, Prag (exh cat) |
| | Barbara Thumm Galerie, Berlin (exh cat) |
| | The Economist Plaza, London |
| | Kunsthandlung H. Krobath & B. Wimmer, Wien |
| | "New Pieces, Julian Opie and Lily van der Stokker", De Gouverneurstuin, Assen, Niederlande |
| 1996 | Galerie Analix B&L Polla, Genf |
| | CCC, Tours, Frankreich (exh cat) |
| | Galerie Bob Van Orsouw, Zürich |
| | Lisson Gallery, London |
| 1995 | Galerie de l'Ancienne Poste, Calais (exh cat) |
| | Monica De Cardenas, Mailand |
| 1994 | Kunstverein Hannover, Hannover, Germany (exh cat) |
| | Galerie Albrecht, Munich, Germany |
| | Tramway, Glasgow, UK (exh cat) |
| | Kunstverein Hannover (exh cat) |
| | Galerie Albrecht, München |
| | Tramway, Glasgow (exh cat) |
| | Wormwood Scrubs, London |
| 1993 | Hayward Gallery, London (exh cat) |
| 1992 | Wiener Secession, Wien (exh cat) |
| 1991 | Kohji Ogura Gallery, Aichi-ken, Japan (exh cat) |
| | Galerie Luis Campaña, Frankfurt |
| | Jänner Galerie, Wien |
| | Galleria Franz Paludetto, Turin |
| | Primo Piano, Rom |
| | Kunsthalle Bern, Schweiz (exh cat) |
| 1990 | Lisson Gallery, London |
| 1988 | Lisson Gallery, London (exh cat) |
| | Galeria Montenegro, Madrid |
| | Paul Maenz, Köln |
| 1986 | Franco Toselli Gallery, Mailand |
| 1985 | Lisson Gallery, London (exh cat) |
| | Institute of Contemporary Arts, London (exh cat) |
| | "Julian Opie and Lisa Milroy", Fondation Cartier pour l'art contemporain, Jouy-en-Josas, Frankreich |
| 1984-85 | Kölnischer Kunstverein, Köln (travelled to Groninger Museum, Groningen, Holland) (exh cat) |
| 1983 | Lisson Gallery, London |
Mehr…
Weniger…
Gruppenausstellungen (Auswahl)
| | |
| --- | --- |
| 2022/2023 | Collection+ Judith Alexandrovics/Julian Opie, Mornington Peninsula Regional Gallery Victoria, Australien |
| | LIGHT: Works from the Tate Collection National Art Center, Tokio, Japan |
| 2022 | "Let's meet at the Station", Plateforme 10, Lausanne, Schweiz |
| 2021/2022 | "London Calling", Palazzo Cipolla, Rome, Italy |
| 2021 | "Acceleration", Stiftung Kunst und Natur, Bad Helibrunn, Germany |
| | "We Change The World", National Gallery of Victoria, Melbourne Australia |
| | "Pop Power from Warhol to Koons", Figge Art Museum, Davenport, USA |
| | "Trauma: Shooting the Pulitzer + 15 mintues", Daejeon Museum of Art, South Korea |
| 2020 | Sculpture Milwaukee, Milwaukee, USA. |
| | Jing'an International Sculpture Project, Shanghai, China. |
| | NGV Triennale, Melbourne, Australia. |
| 2019 | Wuzhen International Contemporary Art Exhibition, Wuzhen, China. |
| | "Nature In Art", MOCAK, Krakow, Poland. |
| | "Life Is A Highway: American Car Culture", Toledo Museum of Art, Toledo, USA. |
| | "Our Collections!", Tottori Prefetural Museum, Tottori City, Japan. |
| | "Ding / Unding. The Artist's Book Unbound", Graphische Sammlung ETH, Zurich. |
| | "Selfies: Artists Self Portraits", 108 Fine Art, Harrogate UK. |
| | "Romantics", St Barbe Museum, Lymington UK. |
| 2018 | "On Form", Peterborough Museum and City Gallery, Peterborough, UK. |
| | "Heads Roll", Graves Gallery, Sheffield, UK. |
| | "Acquisitions 2017-2018", National Museum of Contemporary Art EMST, Athens, Greece. |
| 2017 | "Certain Kind of Light", Towner Art Gallery, Sussex, UK. |
| | "Deep Cuts: Contemporary Paper Cutting", Currier Museum of Art, Manchester, USA. |
| | "I Want! I Want! Art & Technology", Birmingham Museums and Art Gallery, Birmingham, UK. |
| | "Drawing Biennale 2017", Drawing Room, London, UK. |
| | "This Is Not The Reality. What Kind Of Reality?, 57th Venice Biennale, Venice, Italy. |
| | "Synthetic Landscapes", Weston Park & Shrewsbury Museum & Art Gallery, UK. |
| | "Das Auto In Der Kunst", Kunsthalle Emden, Emden, Germany. |
| | "(X) A Fantasy", DRAF, London, UK. |
| | "What Does Art Do In Hospitals?", Museum For Art In Public Spaces, Koeg, Denmark. |
| | "The Show Must Go On", Kunstmusem Bern, Bern, Germany. |
| | "Everything At Once", 180 The Strand, London, UK. |
| | "Right Here, Right Now: 21st Century Art", Grosvenor Museum, Chester, UK. |
| 2016 | "Line", Lisson Gallery. London, UK. |
| | "Undressed: A Brief History of Underwear", Victoria and Albert Museum, London, UK. |
| | "Boys Toys and Girls Pearls", Bob Van Orsouw Gallery, Zurich, Switzerland. |
| | "Sites Under Construction", Manifesta 11, Zurich, Switzerland. |
| | "On Surface: Surface as Carrier of Meaning in 21st Century Art", Lehmbruck Museum, Duisburg, Germany. |
| | Summer Exhibition, 2016. Royal Academy, London, UK. |
| | "First Light: A Decade of Collecting at the ICA", ICA Boston, Boston, USA. |
| | "Five / Fifty / Five Hundred", Lisson Gallery, Milan, Italy. |
| | "L'arte differente: Works from the MOCAK collection, MAXXI, Rome, Italy. |
| 2015 | "MODEL", Galerie Rudolfinum. Prague, Czech Republic. |
| | "Self: Image and Identity", Turner Contemporary. Margate, UK. |
| | "Face to Face", Galerie Bob Van Orsouw. Zurich, Switzerland. |
| | "Faces: Between figures, portraits and masks", Neus Museum. Nuremburg, Germany. |
| | "Beauty Myth: Facets of beauty in nature, art and society", Upper Austrian Landesmuseum. Linz, Austria. |
| | "The Violet Crab at DRAF", David Roberts Art Foundation. London, UK. |
| | "Making it: Sculpture in Britain 1977 – 1986", Longside Gallery, Yorkshire Sculpture Park. Yorkshire, UK. |
| | "Vita Vitale" Azerbaijan Pavilion, Venice Biennale, Venice, Italy. |
| | "Dimensions Variable" Pavilion d'Arsenale, Paris, France. |
| 2014 | "Genius Loci: A Spirit of Place", Palazzo Cavalli Franchetti. Venice, Italy |
| | "Post Pop: East meets West", Saatchi Gallery, London, UK |
| | "Secret Passions", Le Tripostal, Lille, France |
| | "Aspects of the Self: Portraits of Our Times", Center for the Arts at Virginia Tech, Virginia, USA |
| | "Celebrating 30 years in Stockholm", Wetterling Gallery, Stockholm, Sweden |
| | "Nostalgic for the Future", Lisson Gallery, London, UK |
| 2013 | "Fading Nights", Gerhardsen Gerner, Berlin |
| | "Kilometres-heure, Utopies automobiles et ferroviaires" (1913-2013), The Muse du Chateau des Ducs de Wurtemberg in Montbliard and the Muses de Belfort (France) |
| | "Thirteen" Alan Cristea Gallery, London, UK |
| | "Power | Delusion | Vision" Germany (touring) |
| | "Summer Show 2013" Royal Academy, London, UK |
| | "Sitting, Going, Standing, (F)lying" Kunstverein (KISS), Germany |
| | "Stranger" Flowers Gallery, London, UK |
| | "Double Illums Bolighus" Copenhagen, Denmark |
| | "Morality: Imagination and Death", Holden Gallery, Manchester, UK |
| | "In Cloud Country: Abstracting from Nature – From John Constable to Rachel Whiteread" Harewod House, Yorkshire, UK |
| | "Walk on – From Richard Long to Janet Cardiff. Forty years of art walking" (touring) |
| | "Re-viewing the Landscape" Compton Verney, Warwickshire (touring) |
| | "Looking at the View" Tate Britain, London, UK |
| | "Keywords – a vocabulary of culture and society" Iniva (Institute of International Visual Arts) and Tate Liverpool, UK |
| | "Force of Nature: Picturing Ruskin's Landscape", Millennium Gallery, Sheffield, UK |
| 2012 | "Text & Human", Ung-no Lee Museum, South Korea |
| | "Sculptor's Drawings & Works on Paper", Pangolin, London, UK |
| | "Past and Present of British Contemporary Art _ Patrick Caulfield & Julian Opie" Ilju & Seonhwa Foundation, Seoul, South Korea |
| | "The Gallery Collection" Bob van Orsouw, Zurich |
| | "Der Blick, das Wort, die Geste" (The look, the word, the gesture – works from the Kunstmuseum Liechtenstein Collection) RLB Kunstbrucke Innsbruck |
| | "Schau mir in die Aug…" (Look me in the eyes) Kunstmuseum Liechtenstein |
| | "Spotlights Video Art", Essl Museum, Vienna |
| 2011 | "Small is beautiful XXIX", Flowers Gallery, London, UK |
| | "Julian Opie – Eadweard Muybridge" Trepanier Baer Gallery, Calgary, Canada |
| | "The Art of Deceleration" Kunstmuseum, Wolfsburg, Germany (touring) |
| | "Small, Medium, Large" Donjon, De Vez, Vez, France |
| | "Highrise: Idea and Reality" Museum fur Gestaltung, Zurich, Switzerland |
| | "Art & Stars & Cars", Mercedes-Benz, Stuttgart, Germany |
| | "The Digital Eye: Photographic Art in the Electric Age" Henry Art Gallery, Seattle, USA |
| | "Observadores", Museu Colleccao Berardo, Lisbon, Portugal |
| | "Journey of a Dress: Diane von Furstenburg", The Pace Gallery, Beijing, China |
| | "Watch Me Move: The Animation Show", Barbican Art Gallery, London, UK |
| | "Modern British Sculpture" Royal Academy, London, UK |
| | "Moving Portraits", De La Warr Pavilion, Bexhill on Sea, UK |
| | "Rugby Collection 2011", Rugby Art Gallery and Museum, Rugby, UK |
| 2010 | "Eleven", Alan Cristea Gallery, London, UK |
| | "What is Beautiful", Deutches Hygiene-Museum Dresden, Germany |
| | "Fast Forward: British Contemporary Art in Brazil", Brazilian British Centre Galleries, Brazil |
| | "The Rhythm of Istanbul", Akbank Sanat, Istanbul, Turkey |
| | "Sea Fever: From Turner to Today", Southampton City Art Gallery, Southampton, UK |
| | "Pictures about Pictures", MUMOK, Vienna, Austria |
| | "From Here to There: Contemporary Work from the Arts Council Collection", Herbert Art Gallery and Museum, Coventry, UK |
| | "Realism – The Adventure of Reality", Kunsthalle Emden, Germany |
| 2009 | "Boule to Braid", curated by Richard Wentworth, Lisson Gallery, London, UK |
| | "Citygarden", Saint Louis, USA |
| | "Wham – Painting and Beyond", Den Frie Centre of Contemporary Art, Copenhagen, Denmark |
| | The Fields Sculpture Park, Ghent, NY, USA |
| | DLA Piper Series: This is Sculpture, Tate, Liverpool, UK |
| | "Lisson presents 2", Lisson Gallery, London, UK |
| | "Transparency", National Theatre, Prague, Czech Republic |
| | "Musac; Huesped: Coleccion MUSAC en el MNBA", Museo de Arte Contemporaneo de Castilla y Leon, Spain |
| | "Mi Vida. From Heaven to Hell", Mücsarnok, Budapest, Hungary |
| 2008 | "Shaping a Space II", Mario Sequeira, Braga, Portugal |
| | "Lo and Behold", Patrick de Brock, Knokke, Belgium |
| | "The prospect 27", Roche Court Sculpture Park, Salisbury, UK |
| | "Regard_ Camera", Le Centre d'art contemporain de la ferme du buisson, France. |
| | "Outlines", Gimpel Fils, London, UK |
| | "Static: Contemporary Still Life and Portraiture". Harris Museum & Art Gallery, Preston, UK |
| | "Art is for the spirit: Works from the UBS art collection", Mori Art Museum, Japan |
| | "Still / Motion", Mie Prefectural Museum, National Museum of Art, Osaka, Tokyo Metropolitan Museum of Photography, Japan |
| 2007 | "The Secret Public: The Last Days of the British Underground 1978 – 1988", ICA. London |
| | "Passion for Art: 35th Anniversary of the Essl Collection", Essl Museum, Vienna, Austria |
| | "Existencias", Museo de Arte Contemporaneo de Castilla Y Leon, Spain |
| | "Sculpture Grande", Prague, Czech Republic |
| | "Sign Language", Des Moines Art Center, USA |
| | "Animated Painting", San Diego Museum of Art, USA |
| | Group Show II, Barbara Krakow Gallery, Boston, USA |
| 2006-2007 | The Wonderful Fund: Art for the new millennium 2000 – 2005, Pallent House Gallery, UK |
| | "Eye on Europe: Prints, Books & Multiples, 1960 to Now", MOMA, New York, USA |
| 2006 | "Face to Face (Portraits from Reynolds to Opie)", Sherborne House, UK |
| | "Summer group show", Barbara Krakow Gallery, Boston, MA |
| | "Wallworks", part of Swing Space: Contemporary art in unexpected places, Art Gallery of Ontario (AGO), Canada |
| | "Switched On", Alan Cristea, London, UK |
| | "Shanghai Biennale", China |
| | "Auto Nom Kassel", Germany |
| 2005 | "Long Playing: Record Covers by Artists", Barbara Krakow gallery, Boston, USA |
| | 2004 – 2006 |
| | "Likeness: Portraits of Artists by Other Artists" touring: California College of Arts, Wattis Institute, San Francisco, CA; McColl Center for Visual Art, Charlotte, NC; ICA Boston, MA; Dalhousie University Art Gallery, Halifax, Nova Scotia, Canada; University Art Museum, California State, USA |
| | University at Long Beach; Illingworth Kerr Gallery, Alberta College of Art & Design, Calgary, Alberta, Canada |
| 2004 | "Making Faces", A National Gallery Touring Exhibition, Bristol Museums & Art Gallery and the Laing Art Gallery, Newcastle, UK (exh cat) |
| | "Settlements", Musee d'Art Moderne de Saint-Etienne, France (exh cat) |
| | "Bearings: Landscapes from the IMMA Collection", Irish Museum of Modern Art, Dublin, Ireland |
| | "The Tower Block, vertical architecture", Clifford Chance, Canary Wharf, London, UK |
| | "Portrat ohne Antlitz", Kunsthalle Kiel, Germany (exh cat) |
| | "Funny Cuts; cartoons and comics in contemporary art" Staatsgalerie, Stuttgart, Germany |
| | "People" Mimmo Scognamiglio, Naples, Italy |
| | "Summer Exhibiton" Royal Academy of Art, London, UK |
| 2003 | "Saved", 100 Years of the National Art Collections Fund, Hayward Gallery, London, UK (exh cat) |
| | Lenbachhaus Kunstbau, Munich, Germany |
| | "Arcadia; the other life of video games:" Govett-Brewster Art Gallery, New Zealand (exh cat) |
| | "Addiction", 15 Micawber Street, London, UK |
| | "Bienal de Valencia" Valencia, Spain (exh cat) |
| | "No Art-No City – City Utopias in Contemporary Art." Stadtische Galerie im Buntentor, Bremen, Germany (exh cat) |
| | "Auto-nom", das Automobil in der Zeitgenössischen Kunst, NRW Forum Kultur und Wirtschaft, Dusseldorf, Germany (exh cat) |
| | "Urban Codes – Coder/Decoder", espace de l'art concret, Chateau de Mouans, Mouans-Sartoux, France, (exh cat) |
| | "Trickfilm", André Buchmann Galerie, Cologne, Germany |
| | Robert McLain Gallery, Houston, Texas, USA |
| | MART – Museo di Arte Moderna e Contemporanea di Trento e Rovereto, Rovereto, Italy (exh cat)Total Uberzogen", Edith-Russ-Haus fur Medienkunst, Oldenburg, Deutschland |
| 2002/2003 | "Trespassing: Houses x Artists" at the Bellevue Art Museum, Washington, USA MAK Centre for Art and Architecture, Los Angeles, USA and MAK, Vienna, Austria (exh cat) |
| | "Total Uberzogen", Edith-Russ-Haus fur Medienkunst, Oldenburg, Germany |
| 2002 | "Frenetic Interference". A Presentation of Memory/Cage editions art publishers, New Museum Store, New York. Window on Broadway by Julian Opie (exh cat) |
| | "Bigger Splash", The Whitechapel Art Gallery at London Art Fair |
| | "Sculptura 02", International Art in Public Spaces, Falkenberg, Schweden |
| | "Remix", Contemporary Art and Pop, Tate Liverpool |
| | "Out of Place", Bury St Edmunds Art Gallery, Bury St Edmunds |
| | "Shine", the Lowry, The National Landmark Millennium Project for the Arts, Salford Quays, Salford (exh cat) |
| | Galerie Barbara Thumm, Berlin: Innenhofinstallation in Zusammenarbeit mit Caroline Raspé |
| | "Babel 2002" ("Race-Face, Langue-Dialogue"), National Museum of Contemporary Art, Seoul, Korea |
| | New Acquisitions, Scottish National Gallery of Modern Art, Edinburgh |
| | Sandra Gering Gallery, New York |
| | Baltic, the Centre for Contemporary Art, Gateshead (exh cat) |
| | "Shine", Saint Pancras Chambers, London |
| | "Projects 77", billboards for the Museum of Modern Art, New York |
| | "Continuity/Departure", Tokyo Museum of Modern Art, Kurator: Kazuo Nakabayashi ( ex cat) |
| | "Julian Opie and Hubert Schmalix", Atelier Augarten, Österreichische Galerie Belvedere, Wien (exh cat) |
| 2001-02 | "Landscape", kuratiert von Ann Gallagher, The British Council. Exhibition tour opening at ACC Gallery, Weimar; travelling to House of Artists, Moscow; Peter and Paul Fortress, St. Petersburg; Galleria Nazionale d'Arte Moderna, Rome; Centro Cultural del Conde Duque, Madrid; Sofia Municipal Gallery of Art, Bulgaria; Museu de Arte Contemporânes de Niterio, Rio de Janeiro; Museu de Arte de São Paolo; Le Botanique, centre culturel de la communauté française Wallonie-Bruxelles (exh cat). |
| | "In Fumo" (Art, Comics, Communication), kuratiert von Giacinto di Pietrantonio, Galleria d'Arte Moderna e Contemporanea, Bergamo, Italien (exh cat) |
| | "Import", Irish Museum of Modern Art |
| | "Multiplication", a British Council touring exhibition of Artist's Multiples, National Museum of Art, Bucharest, Muzeul de Arta in Brasov, Muzeul Brukenthal, Sibu, Rumania; show travelling to Croatia, Turkey, Russia, Estonia and Poland (exh cat) |
| | Tate Modern permanent collection |
| 2001 | "/arts", BBC websites, the Lux, London |
| | "Art > Music", Rock Pop Techno, Museum of Contemporary Art, Sydney (exh cat) |
| | "Sculpture in the Close", Jesus College, Cambridge |
| | "Cause & Effect" organised by the British Council (touring in Poland, Hamburg, and Cuba) |
| | "Milano Europa 2000", PAC e Triennale di Milano, Milan |
| 2000 | Contemporary Performance Arts, Inc., Matthew Marks Gallery, New York |
| | Lawrence Rubin / Greenberg / Van Doren, New York |
| | "A Salon for the 21st Century", John Weber Gallery, New York |
| | "Lost", Ikon Gallery, Birmingham (kuratiert von Tania Kovats) (exh cat) |
| | "Videoprogramm", Galerie Barbara Thumm, Berlin u.a.O |
| | "Drive", Govett-Brewster Art Gallery, New Plymouth, Neuseeland (exh cat) |
| | "The Self is Something Else – Art at the end of the 20th Century", Kunstsammlung Nordrhein-Westfalen, Düsseldorf (exh cat) |
| | "Hausschau – Das Haus in der Kunst", Deichtorhallen, Hamburg (exh cat) |
| | Outdoor project for VolkswagenStadt Wolfsburg in Wolfsburg |
| | "Sitooteries", Belsay Park, Newcastle-upon-Tyne |
| | "Between Cinema and a Hard Place", Tate Modern, London (exh cat) |
| | "Parklight", Clissold Park, London (exh cat) |
| | "Fact & Value", Charlottenburg, Kopenhagen (exh cat) |
| | "New British Art 2000: Intelligence", Tate Britain, London (exh cat) |
| | "Face à face", Kunstpanorama Luzern, Schweiz |
| | "Pict", Walter Phillips Gallery Banff Center for the Arts, Banff, Kanada |
| | "Give and Take", Jerwood Gallery, London |
| | "Version 2000", Centre pour l'image contemporaine, Saint-Gervais, Genf (exh cat) |
| | "Wanted!", International Video Program, Bunkier Sztuki, Krakau |
| | "Drawings & Photographs", Diözesanmuseum München Freising |
| 1999 | "Schöpfung" Diözesanmuseum München Freising (exh cat) |
| | "Etcetera…", Spacex Gallery, Exeter |
| | "Common People". British Art Between Phenomenon and Reality, Fondazione Sandretto Rebaudengo per l'Arte, Guarene d'Alba |
| | "Cruise Control", Christine Rose Gallery, New York |
| | "In the midst of things", Bournville, Birmingham (exh cat) |
| | "Manufacturers", The Paper Bag Factory, London |
| | "Panorama 200″0, Centraal Museum, Utrecht, NL (exh cat) |
| | "The Space Here is Everywhere", Villa Merkel, Esslingen (exh cat) |
| | "Den Haag Skulptur 1999", Den Haag |
| | "Shopping", FAT, London (plastic bags) |
| | "Vergiss den Ball und spiel weiter, das Bild des Kindes in zeitgenössischer Kunst und Wissenschaft", Kunsthalle Nürnberg (exh cat) |
| | "Please Touch", SCP store, London (cat) |
| | Galleria S.A.L.E.S., Rom |
| | "Teatro Botanico, la natura nell'arte del XX secolo", Museo del Castello Ursino, Catania (exh cat) |
| | "Art in the City 4", Kunsthaus Bregenz |
| | 1995-2000, 5 years of print publishing (Dec. 99), Alan Cristea Gallery, London |
| 1998 | "Thinking Aloud", South Bank Centre, Tour: Kettle's Yard, Cambridge; Cornerhouse, Manchester; Camden Arts Centre, London (exh cat) |
| | "Le voyage immobile", Galerie George-Philippe Vallois, Paris |
| | "Ciudades sin nombre", La Sala de Esposiciones de Plaza de España, Madrid |
| | "Made in London", Expo '98, Museu de Electricidada, Lissabon |
| | "Richtung Museumsquartier – Die neue Sammlung (1)", Palais du Liechtenstein, Wien |
| | "Then and Now", Lissabon Gallery, London |
| | "Distinctive Elements", Contemporary British Art Exhibition, The Museum of Contemporary Art, Seoul, Korea (exh cat) |
| | "Every Day", 11th Biennial of Sydney, Sydney (exh cat) |
| | Kimpo International Sculpture Syposium, Kimpo Sculpture Park, Korea (exh cat) |
| | 11th Biennial of Sydney, Sydney (outdoor sculpture) |
| | London Now, Saks Project Art, Saks Fifth Avenue, New York |
| | "Surfacing Contemporary drawing", ICA, London (exh cat) |
| | Fondation Cartier, Paris, France (exh cat) |
| 1997 | 9th Delhi Triennial travelled to Chandigarh, Bhopal, Calcutta, Bangalore, Bombay (exh cat) |
| | "On the Border", Dan Bernier Gallery, Santa Monica, Los Angeles |
| | "Dream of the Fisherman's Wife", Sandra Gering Gallery, New York |
| | "Foundations of Fame", London Institute, London |
| | "Culturgeist", Caixa General de Depositos, Lissabon |
| | "10 Jahre Stiftung", Kunsthalle Bern |
| | "Material Culture: The Object on British Art of the 1980s and '90s", Hayward Gallery, London |
| | "Such is Life", Serpentine Gallery. Tour: Palais des Beaux-Arts, Brüssel; Hersliya Museum, Israel |
| | "printers inc.", Arts Council Collection Exhibition |
| | "Artists for Sarajevo", Fondazione Querini Stampalia, Venedig (exh cat) |
| | "Follow Me", British Art on the Elbe, Art Studio, Deinste, Deutschland (exh cat) |
| | "Another & Another & Another Act of Seeing" (Urban Spaces), Desingel International Arts Centre, Antwerpen (exh cat) |
| | "Art in the City", Kunsthaus Bregenz and Bregenz Kunstverein, Bregenz (exh cat) |
| | "Need for Speed", Kunstverein Graz (exh cat) |
| 1996 | "Elsewhere", Galerie Froment & Putman, Paris |
| | "Abstract Real", Museum Moderner Kunst Stiftung Ludwig Wien (exh cat) |
| | "City Limits", Staffordshire University, Staffordshire (exh cat) |
| | "The East Wing Exhibition", Courtauld Museum of Art, London |
| 1994 | "It's Only Rock and Roll: Rock and Roll Currents in Contemporary Art", travelling to: Contemporary Arts Center, Cincinnati, OH; Lakeview Museum of Arts and Science, Peoria, IL; Virginia Beach Centre for the Arts, VA; Tacoma Art Museum, WA; Jacksonville Museum of Contemporary Art, FL; Dean Lescher Regional Centre for the Arts, Bedford Gallery, Walnut Creek, CA; Phoenix Art Museum, AZ; Lowe Art Museum, Coral Gables, FL; Milwaukee Art Museum, WI; Arkansas Art Centre, Little Rock, AR (exh cat) |
| | "Drawing the Line", South Bank Centre Touring Exhibition (exh cat) |
| | "Micromegas", American Centre, Paris, France |
| | "British Art of the 1980s and 1990s – Works from the Weltkunst Collection" The Irish Museum of Modern Art, Dublin, Ireland |
| | "Haus-Geburt", Offenes Kulturhaus, Linz, Austria (exh cat) |
| | ESCULTURA BRITÁNICA CONTEMPORÁNEA: DE HENRY MOORE A LOS ÃNOS 90, Auditorio de Galicia, Santiago de Compostella, Spain, touring to Serralves Foundation, Oporto, Portugal) (exh cat) |
| | "Fuori Uso", Stabilimenti Ex-Aurum, Pescara, Italy (exh cat) |
| | "British Abstract Art Part II: Sculpture"; Flowers East, London, UK |
| | "Architecture(s)", CAPC musee d'art contemporain, Bordeaux, France (exh cat) |
| | "Contemporaneamente", Associazione Spazio Immaginato, Naples, Italy (exh cat) |
| | "Spuren", Kunsthalle Bern, Bern, Switzerland |
| | "New Voices: British Painting, a Selection 1989-1992", organised by the British Council, travelling to Centro de Arte Santa Monica, Barcelona; Museo de Bellas Artes, Bilbao; Centro Cultural Galileo, Madrid, Spain (exh cat) |
| | "London Landscapes", Velan-Spazio 9 Arte, Turin, Italy (exh cat) |
| | "Re Rebaudengo Sandretto Collection", S. Antonio di Susa, Turin, Italy |
| | Anthony Reynolds Gallery, London, UK |
| | "Opera Prima", Trevi Flash Art Museum of Contemporary Art / Associazione Culturale Arte Nova, Italy |
| | "The Institute of Cultural Anxiety: Works from the Collection", Institute of Contemporary Arts, London, UK |
| | "Cityscape", Monica de Cardenas, Milan, Italy |
| | "Jedes Haus ein Kunsthaus", Museum fur Gestaltung, Zurich, Switzerland |
| 1993 | "IN SITE – New British Sculpture", Museet for Samtidskunst, Oslo (exh cat) |
| | "Machines for Peace", ex-Yugoslavian Pavillion, Venice Biennale |
| | Serpentine Gallery, London |
| | "Juxtaposition", Charlottenburg, Kopenhagen (exh cat) |
| | "Made Strange", Ludwig Museum, Budapest (exh cat) |
| | Padiglione dell'Arte Contemporanea, Mailand |
| | "Sculpture of the Eighties", Connaught Brown, London |
| 1992-93 | "Julian Opie, Jürgen Albrecht, Tin Head, Yuriko Kurimoto", Foro per l'Arte Contemporanea, Verona |
| | "Paolo Ucello: spazio e colore, tempo e materia, luce e forma". Battaglie dell'arte nel XX secolo, La Salernia, Erice and Sale del Bramante, Rome (exh cat) |
| 1992 | "Like Nothing Else in Tennessee", Serpentine Gallery, London (exh cat) |
| | Whitechapel Open, Whitechapel Art Gallery, London |
| | "New Voices, New Works form the British Council Collection", centre de conférences Albert Borschette, Brussels (Tour) (exh cat) |
| 1991 | "Confrontaciones 91", Palacio Velasquez, Madrid, Spain (exh cat) |
| | "Kunst Europa", Kunstverein Pforzheim, Germany, organised by The British Council (exh cat) |
| | "Centenary Exhibition", Goldsmith Gallery, London, UK |
| | "Objects for the Ideal Home, the Legacy of Pop Art", Serpentine Gallery, London, UK (exh cat) |
| | "A View of London"; Kunstlerhaus, Salzburg, Austria (exh cat) |
| | Galleria Locus Solus, Genoa, Italy |
| 1990 | "Filling in the Gap", Feigen Art Gallery, Chicago |
| | "objectives: The New Sculpture", Newport Art Museum, Newport Beach (exh cat) |
| | "The British Art Show 1990", Tour: Mc Lellan Galleries, Glasgow; Leeds City Art Gallery; Hayward Gallery, London (exh cat) |
| | Biennial of Sydney, Sydney (exh cat) |
| | "Studies on Paper. Contemporary British Sculptors", Connaught Brown, London |
| | "Bild und Wirklichkeit", Galerie Albrecht, München |
| | "Sculpture", Margo Leavin Gallery, Los Angeles |
| | "Real Allegories", Lisson Gallery, London |
| | "Work in Progress International Art in the Caja de Pensiones |
| | Foundation Collection", Caja de Pensiones Foundation, Madrid (exh cat) |
| 1989 | "Grenville Davey, Michael Craig Martin, Julian Opie", Lia Rumma Gallery, Naples, Italy |
| | "Mediated Knot", Robin Lockett Gallery, Chicago, USA |
| | "Objet objectif", galerie Daniel Templon, Paris, France (exh cat) |
| | "Skulptur Teil II", Galerie Six Friedrich, Munich, Germany |
| | "D+S Austellung"; Hamburg Kunstverein, Hamburg, Germany (exh cat) |
| | 1988 – 1989 |
| | "Britannica: 30 ans de sculpture", musee des beaux-arts André Malraux, Le Havre; musee d'Evreux; ecole d'architecture de Normandie, Rouen, France |
| | "British Sculpture 1960-1988", Museum van Hedendaagse Kunst, Antwerp, Belgium |
| 1988 | "Europa Oggi/Europe Now", Museo d'Arte Contemporanea, Prato, Italien (exh cat) |
| | "Les années 80: à la surface de la peinture, centre d'art contemporain", abbaye de Saint-André, Meymac Wolff Gallery, New York |
| | Wolff Gallery, New York, USA |
| 1987 | "Terrae Motus", Grand Palais, Paris (organisiert von der Fondazione Amelio, Neapel) (exh cat) |
| | "British Art of the 80's", Liljevlachs Konsthall, Stockholm (organisiert von British Council) (exh cat), Tour: Sara Hilden Museum, Tampere as "Britannia: Paintings and Sculptures form the 1980's" (exh cat) |
| | "Casting an Eye", Cornerhouse, Manchester |
| | Documenta 8, Kassel (exh cat) |
| 1986 | "Skulptur – 9 Kunstnere fra Storbrittanien", Louisiana Museum of Modern Art, Humlebaek, Dänemark (exh cat) |
| | XVII Triennale di Milano, Mailand |
| | "De Skulptura – Eine Ausstellung der Wiener Festwochen 1986", Wiener Festwochen im Messepalast, Wien (exh cat) |
| | "Englische Bildhauer", Galerie Harald Behm, Hamburg |
| | "Prospect 86, eine internationale Ausstellung aktueller Kunst", Frankfurter Kunstverein, Frankfurt (exh cat) |
| | "Correspondientie Europ"a, Stedelijk Museum, Amsterdam (exh cat) |
| | "Focus on the Image: Selection from the Rivendell Collection", organised by the Art Museum Association of America. (exh cat) Tour: Phoenix Art Museum, Phoenix; Museum of Art, University of Oklahoma, Norman; Munson-Williams-Proctor InstituteMuseum of Art, Utica; NY; University of South Florida Art Galleries, Tampa, FL; Lakeview Museum of Art and Science, IL; University Art Museum, California State University, Long Beach; Laguna Glori Art Museum, Austin TX |
| 1985 | "The British Show", organisiert von Art Gallery of New South Wales, Sydney, und The British Council; (exh cat), Tour: Art Gallery of Western Australia, Perth; Queensland Art Gallery, Brisbane; The Exhibition Hall, Melbourne; National Art Gallery, Wellington, NZ |
| | XIIème Biennale de Paris, Grande Halle de la Villette, Paris (exh cat) |
| | "Still Life: A New Life", Harris Museum and Art Gallery, Preston (exh cat), Tour: Bradford Art Galleries and Museum; Hatton Gallery, Newcastle-upon-Tyne; Carlisle Museum and Art Gallery, Stoke-on-Trent |
| | Anniottanta, Ravenna (exh cat) |
| | "Three British Sculptors: Richard Deacon, Julian Opie and Richard Wentworth", The Israel Museum, Jerusalem (exh cat) |
| | Place Saint-Lambert Investigations, Espace Nord, Liège |
| | "Figure 1", Aberystwyth Arts Centre, Wales |
| | "Sculpture in a Garden", Bluecoat Gallery, Liverpool |
| | "Forty Years of Modern Art 1945-1985", Tate Gallery, London (exh cat) |
| 1984 | Metaphor and/or Symbol. A Perspective on Contemporary Art"; The National Museum of Modern Art, Tokyo (exh cat), travelled to The National Museum of Art, Osaka, Japan |
| | "Artists for the 1990s – 10 Galleries, 10 Artists", Paton Gallery, London |
| | "Underwater", Plymouth Arts Centre, UK |
| | Sculpture Symposium 1984, St Jean-Port, Quebec, Canada |
| | "William Morris Today", Institute of Contemporary Arts, London, UK |
| | "Perspective '84", the International Basel Art Fair, Basel, Switzerland |
| 1983 | Charter House Square, London |
| | "Young Blood", Riverside Studios, London |
| | "Beelden/Sculpture 1983", Rotterdam Arts Council, Rotterdam (exh cat) |
| | "The Sculpture Show", Hayward and Serpentine Galleries, London (exh cat) |
| | "8 Sculptors' Drawings", Air Gallery, London |
| | "Making Sculpture", Tate Gallery, London (exh cat) |
| 1982 | Lisson Gallery, London |
| | "Sculpture for a garden", Hounslow Sculpture II, Gunnersbury Park, London |
Mehr…
Weniger…
Ausgewählte Projekte
2023
Globe & Simpson Building, Manchester, UK
Regent's Place, London, UK
RATP – Port de Clichy, Paris, Frankreich
INFRA, Zurich, Schweiz
MSC Euribia, Cruise Liner
2022/2023
Wuhan Biennale, China
Beijing Biennale, China
2022
The St. Regis Hotel, Project, Venice, Italy
2021/2022
The Inlet. Urban Adventure Spatial Art Exhibition
Shanghai, China
2021
RATP – Port de Clichy, Paris, France
2020
'Paul and Padmini running', Magdalen College School, Oxford, UK.
'Parade' and 'Running 3', Pacific Place, Hong Kong.
2019
'Elena', Vogue Korea, Seoul, South Korea.
'Walking in Shanghai', Fosun Foundation, Shanghai.
Hospital Rooms, Jasmine Lodge, Exeter UK.
2018
Hyundai Department Store, Trade Centre, Seoul, South Korea.
"Teresa", Atlice Forum, Braga, Portugal.
"Beach walkers." Hamilton Princess Hotel, Bermuda.
"Tina." Tokoyo Inn, Narita Airport, Tokyo, Japan.
Hospital Rooms, Eileen Skellern 1, Maudsley Hospital, London, UK.
2017
"Soldier and Solicitor", Seoho Development Busan, South Korea.
2016
Lumiere London, Carnaby, London, UK
"Walking in Hong Kong", Tower 535, Causeway Bay, Hong Kong.
Walking in Taipei, Taipei, Taiwan. LED commission unveiled May 2016.
Tower 535 Causeway Bay, Hong Kong. LED commission unveiled May 2016.
Citizen M, Tower Bridge, London. Opening 2016.
2015
"Walking in the city." Arndt & Medernach, Luxembourg.
"Banker, Nurse, Detective, Lawyer." City of Takamatsu, Takamatsu, Japan.
2014
UNIQLO T-shirt project, UNIQLO, Japan and MoMA, NY, US
Fine Art Sail, Cowes Week, UK
Arte Coni 100, Olympic banner project, Rome, Italy
Glyndebourne Festival 2014 programme cover, Glyndebourne, UK
CitizenM hotel, Times Square, New York, US
CitizenM hotel, Paris, France
PKZ Fieldpausch dept. store, Zurich, Switzerland
"INFRA", Mariinsky Theatre, St Petersburg, Russia
Yorkshire Sculpture Park, Wakefield, UK
2013
SP_Urban Festival, Sao Paulo
K&L Gates, Portland, Oregon, USA
Arlanda Airport, Stockholm
Canary Wharf, London
La Jolla Murals, San Diego, USA
The Theif Hotel, Oslo
'INFRA', Royal Ballet of Flanders, Antwerp
The London Boat Show 2013
2012
Tate Exquisite Forest online
Festival O! Gwangju Madia Art, South Korea
National Academy, New York
Great St Helen's: Sculpture Space, London
Promenade, Calgary, Kanada
ArtFund app, UK
Lindo Wing: St Mary's Hospital, London
Hermes "Art Window 6", Sydney Australia
Universita Commerciale Luigi Bocconi, Milan, Italy
2011
Japanese Galleries, British Museum, London
2010
Shanghai Expo, China
Regent's Place, London
2009
Centre D'Art Contemporain Meymac, France
Yongin University, Seoul, South Korea
Morgan Stanley Building, Seoul, South Korea
Olympic Stamp, Royal Mail
The Fields Sculpture Park, Ghent, USA
Bank Santander, Madrid, Spain
"INFRA", Royal Opera House, London, UK
2008
"Walking on O'Connell Street", Dublin City Gallery The Hugh Lane, Dublin
"Deloitte Ignite" Royal Opera House, London
2007
River Vltava, Prague, Czech Rebuplic
Phoenix, Arizona, USA
2006
Rogers Building, Toronto, Canada
Mori Building, Omotesando Hills, Japan
Aldrich Museum of Art, Connecticut, USA
Arts Council of Indianapolis, USA
2005/2006
Institute of Contemporary Art, Boston, USA
2005
Museum Nasional Indonesia, Jakarta, Indonesia
2004
MCA Chicago, Chicago, USA
2003
Selfridges, Manchester, UK
Barts & the London Hospital, London, UK
Bergne Visual Arts at Sadler's Wells, London, UK
"Formula 1 Racing", Milan Railway Station, Italy
2002
WWK Munich, portrait commission, Munich, Germany
"The Wall at WAM", Museum's Renaissance Court, Worcester Art Museum, Massachusetts, USA
"Blast to Freeze", British Art in the 20th Century, Kunstmuseum Wolfsburg, Wolfsburg, Germany (exh cat)
"Tribe Art Commission, Honda Formula One Team, Boiler House, Truman Brewery, Brick Lane, London
"Conduire. Auteur: Julian Opie", 6 Gloria, Marseille, France
Sculptures for Dentsu Building, Tokyo, Japan
Museum of Contemporary Art Chicago, wallpaper and window works. Chicago, USA
2000
St Etienne: CD and album covers + poster campaign
"The Art of Barbie", charity event organised by Elton John
Cruise ship on Lake Constance, Kunsthaus Bregenz, Bregenz, Austria
Blur: record and album covers + campaign
"I remember her" multiple for "Art of this Century" New York, USA
1999
John Islip Street wall, Tate Gallery, London
The Lux Centre, night time window projections, London, UK
1998
Houses X Artist ongoing project. OpenOffice, New York, USA
Collection Box, Whitechapel Gallery, London
Heathrow Airport terminal 1.
Save the Children Colouring Book
"Other Rooms, Other Voices", audio works by artists – played on Swiss Radio Station (cat)
1994
Tate Gallery Christmas Tree, Tate Gallery, London, UK
Wormwood Scrubs, London, UK
"5 batiments de banlieue", Annonciades, Bordeaux, France
Mehr…
Weniger…
Werke in Öffentlichen Sammlungen
| | |
| --- | --- |
| | Aberdeen Art Gallery, Scotland, UK |
| | Albertina, Vienna, Austria |
| | Arts Council of Great Britain, UK |
| | Banque Bruxelles Lambert, Brussels, Belgium |
| | Carnegie Museum, Pittsburgh, USA |
| | Collection Essl, Vienna, Austria |
| | Contemporary Art Society, UK |
| | Dentsu Building, Tokyo, Japan |
| | Daimler Chrysler, Dresdner Bank, Berlin |
| | Davis Museum, Wellesley College, Boston MA |
| | Denver Art Museum, Denver, USA |
| | Deutsche Bank, Frankfurt, Germany |
| | Daros Collection, Zurich, Switzerland |
| | Dublin City Gallery The Hugh Lane |
| | Espoo Museum of Modern Art, Finland |
| | Essl Collection, Vienna, Austria |
| | Fonds National d'Art Contemporain, France |
| | Fundacion Caja de Pensiones, Madrid, Spaibn |
| | Gana Art Centre, Seoul, South Korea |
| | Gjensidige, Oslo, Norway |
| | ICA, Boston, USA |
| | Institut Valencia d'Art Modern (IVAM), Spain |
| | Kunsthalle Bern, Bern, Germany |
| | Kunsthaus Bregenz, Bregenz, Austria |
| | Kunsthaus Zurich, Zurich, Switzerland |
| | Kresge Art Museum, Michigan State University, East Lansing, USA |
| | Lenbachhaus Stadtische Galerie, Munich, Germany |
| | Maison Europeene de la photographie, Paris, France |
| | MUSAC, Leon, Spain |
| | Museet for Samtidskunst, Oslo, Norway |
| | Museo d'Arte Contemporanea LUIGI PECCI, Prato, Italy |
| | Museum of Contemporary Art Krakow, Poland |
| | Museum of Fine Arts, Boston, USA |
| | Museum of Modern Art, New York, USA |
| | Neue Galerie – Sammlung Ludwig, Aachen, Germany |
| | Neues Museum, Nuremberg, Germany |
| | National Gallery of Victoria, Melbourne, Australia |
| | National Portrait Gallery, London, UK |
| | Queensland Art Gallery, Australia |
| | Stedelijk Museum, Amsterdam, Netherlands |
| | Takamatsu City Museum Of Art |
| | The British Council, UK |
| | The British Museum, London, UK |
| | The Calouste Gulbenkian Foundation, Portugal |
| | The Government Art Collection, London, UK |
| | The Israel Museum, Jerusalem, Israel |
| | The National Museum of Art, Osaka, Japan |
| | The National Museum of Modern Art, Tokyo |
| | Takamatsu City Museum of Art, Japan |
| | Takamatsu City, Japan |
| | The Tate Gallery, London, UK |
| | The Tate, Liverpool, UK |
| | The Victoria and Albert Museum, London, UK |
| | UBS Art Collection |
| | Wadsworth Athenaeum, Hartford, Connecticut, USA |
Mehr…
Weniger…