Theresa Eipeldauer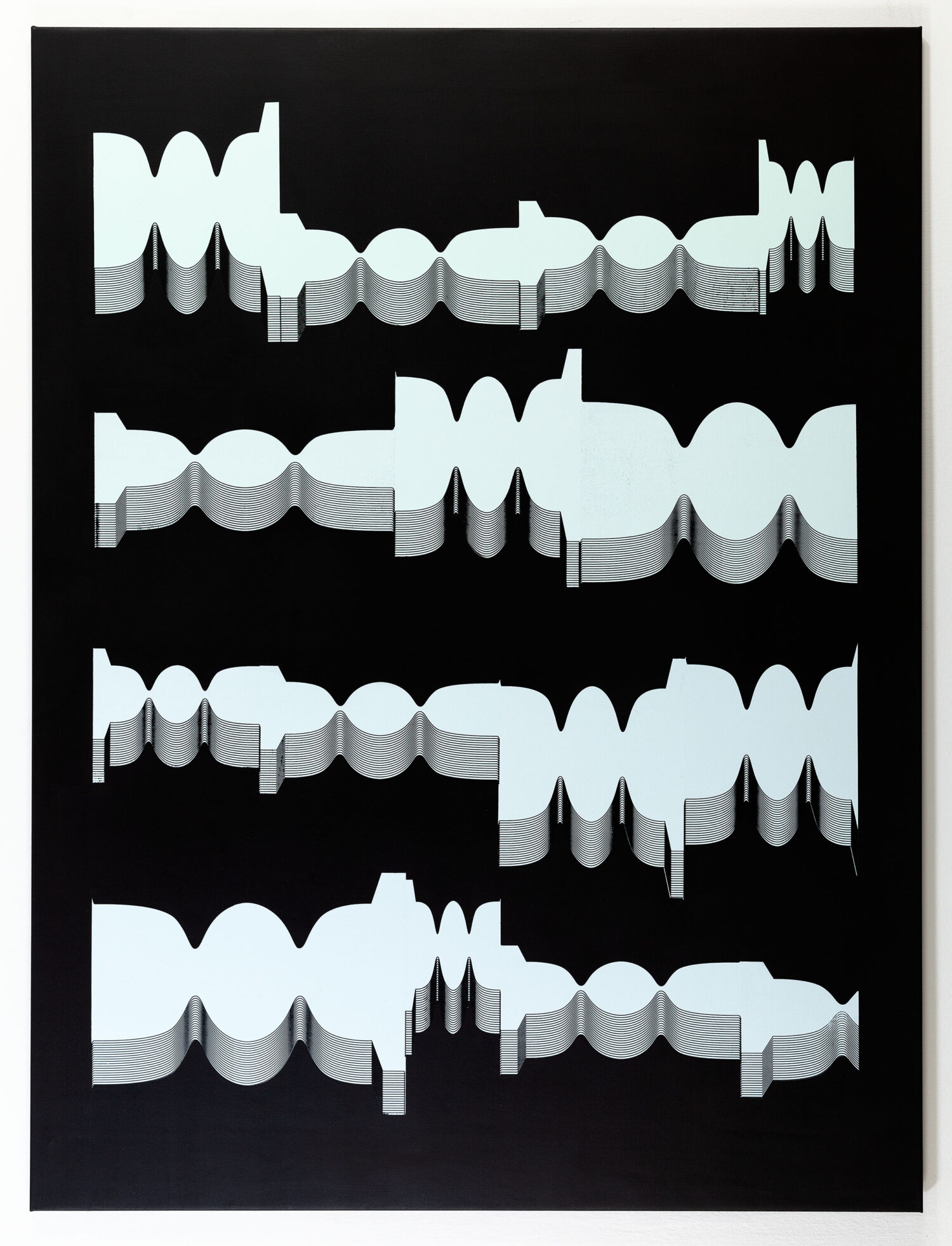 Eipeldauer's time in Paris studying lithography marked the beginning of a fascination with printed graphics which has lasted for many years. Her current works are based on drawings: écriture automatique scribbles are sent through a digital process including scanning and glitching, then filtered on the computer, transformed and linked in a composition. A selection of the resulting graphics is then transferred onto previously painted canvasses using a silk-screen process. By painting the canvas by hand, Eipeldauer draws on classical concepts of painting, but by negating the brush in her next step, she bypasses these concepts rather than touching them: the pigment is applied indirectly by using a screen and blade.
Eipeldauer creates a poetic approach to visual elements: she builds up tensions ("vibrations") by scanning, modifying and juxtaposing formal properties. She focuses and multiplies the lines, thus suggesting three-dimensionality. Overlapping lines make some parts of the picture flicker; contrasts and repetitions help to create spaces and objects. In her works, the artist often uses visual elements such as writing and language. Typographic vibrations create structures and non-spaces, which cannot exist through language. The playful approach to the form ultimately leads to visual ambivalence, to intimations and openness to interpretation.
For Eipeldauer, picture compositions mainly mean "Arrangement of Incidents" – and the title of the exhibition is an acronym of this phrase. Doubt is the driving force behind the artistic approach and the decisions are based on both emotional and formal considerations: the position of the print, the chosen surface, the number of coats of primer and pigments. Colour characteristics. Eipeldauer thus develops a sensitivity for materials which touches on the original essence of painting: What is painting? And what does it mean to me?
The answers are found in particular along the edges of the medium, and are highlighted thanks to Eipeldauer's fondness for travestying painting. In his essay "Painting beside itself", David Joselit poses a variety of other questions: What can be triggered by painting if its methods are only feigned? How can these works of art be located within the context of art history? How might painting meet the challenge of mechanical reproduction? How does painting belong to a network?
The works exhibited here can also be interpreted as answers to these questions.
(Christian Bazant-Hegemark, December 2018 / English translation: Mandana Taban)
More…
Less…
Biography
Theresa Eipeldauer
Lives and works in Vienna, Austria.
1985 born in Vienna, Austria
2006-12 Graphics and Print Media at the Academy of Fine Arts Vienna, Gunter Damisch
2010 Semester abroad at École nationale supérieure des beaux-arts, Paris, France
2012 Diploma, Academy of Fine Arts Vienna
Awards & Scholarships
| | |
| --- | --- |
| 2012 | Würdigungspreis der Akademie der Bildenden Künste, Wien |
| | Saint Vincent European Art Prix – Special Mention |
| 2013 | Startstipendium Bildende Kunst, BMUKK |
| 2015 | Klockerstiftung – Förderpreis |
More…
Less…
Collections
Kupferstichkabinett, Akademie der Bildenden Künste Wien
Stadt Wien
Land Burgenland
EVN – Sammlung
Klockerstiftung
Solo Exhibitions (Selection)
| | |
| --- | --- |
| 2019 | A/ O/ I/, Krobath Wien |
| 2016 | Kabinett, Krobath Wien |
| 2015 | Robotermärchen, blaugelbe, Zwettl |
More…
Less…
Group Exhibition (Selection)
| | |
| --- | --- |
| 2020 | Groupshow Krobath Wien, Wien (A) |
| 2019 | Veronika Dirnhofer/Theresa Eipeldauer. Galerie Hollenstein, Lustenau. |
| 2017 | Petra Rinck Galerie, THERESA EIPELDAUER CHRISTOF JOHN JUGOSLAV MITEVSKI BENJAMIN ROTH, Düsseldorf, D |
| 2015 | Fine Art / University Selection 2015-2016 / Tsukuba Museum of Art, Ibaraki (Japan) |
| | Vom Zeichnen, Vortragsreihe / Akademie der bildenden Künste Wien |
| | artware young art auction / Albertina Wien |
| | Klockerstiftung Förderpreis / Kunstpavillion, Innsbruck |
| | Verkaufsausstellung / das weisse haus, Wien |
| | Resonate / wellwellwell, Wien |
| 2014 | Veranstaltungsprojekt DI∞G, Wien |
| | AbsolventInnen der Wiener und Prager Akademie / Egon Schiele Art Centrum, Krumau (CZ) |
| | The Faintest Idea / OBEN, Wien |
| | The Unwritten: Highlights of Emerging Painting / moe, Wien |
| 2013 | LE CERCLE ROUGE / Kargl Permanent, Wien |
| | ERRATA / MUSA Startgalerie, Wien |
| | The keys to her place / VBKÖ, Wien |
| | some roads to somewhere / Hilger Brot Kunsthalle, Wien |
| | in der kubatur des kabinetts / fluc, Wien |
| 2012 | SVEART, Saint Vincent European Art Biennale, Valle d'Aosta |
| | Neuartig II, Landesgalerie Burgenland, Eisenstadt |
| | Ö1 Talentebörse – Grafik des Monats |
More…
Less…