Sofie Thorsen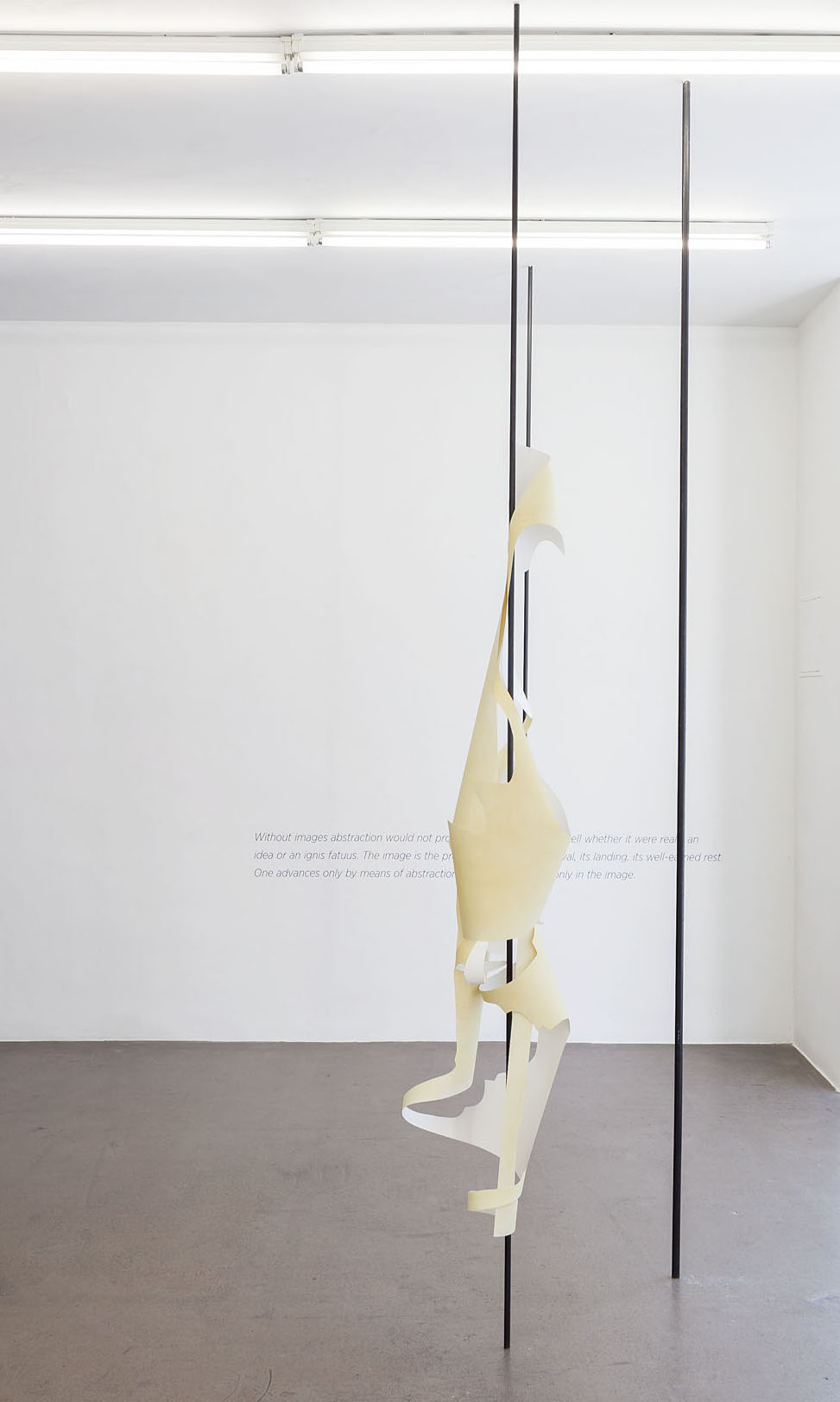 What potential can be found in a line? Using string flicked against a wall to make a line, which is echoed in a nearby corner of the room, the artist demarcates where a two-dimensional surface gives way to the third dimension and a sequence of works mounted on panels. This quickly applied line usually serves the purpose, in building works for example, as a straight line,; as archaic as it might seem, of marking the line dividing where a space begins and ends. A single line can alter the relationship between a surface and a space, opening it up, or it can also draw attention to an empty area. Together, through different thickness lines and varying relationships to both elements of the space and each other, a spatial dimension can be defined and even point to a perspective from which the entire work is intended to be viewed. This type of line also hints at the time frame of its making: a visible trace of powdered pigment serves as a reminder of its creation and hints at potential activity therein. And this straight line also stands for, in its exactitude, efficiency and the degree to which the artist is in control of the situation at hand. The technique the artist uses, making a mark with string with pigment on it as a physical act in which a surface has been touched, is an indexical gesture towards what is potentially missing.
In addition to her works using lines on walls, Sofie Thorsen has, in recent years, called attention to surfaces, spaces and temporal structures through the interaction with new, even contrasting features: rigid, repetitive patterns of absolutely straight lines next to each other are broken by lines that change course and touch other through chance, and tension occurs through the yielding of control. A constant, however, remains the spatial nature of making these marks by causing string that has been infused with pigment to hit and mark a surface by most minimal means, evoking an infinite art space.
Her collages bring this line back into play in a different way, delineating what can be perceived as a space: lines outline an area, defining a shape. The artist extracts surfaces between lines which provided with a sense of materiality by painting them. As a result, the painted paper no longer lies flat on the surface. Cut-out forms are then brought together as small format objects of art and lines, surfaces and define spaces which then become a relief. This causes the physical context of the work to come to the fore as a three-dimensional element, whether in the form of a protuberance or an indentation. The relief has a profound effect on the surface adjacent to it which provides a two-dimensional pendant to each movement in the space itself.
In Sofie Thorsen's presentation, walls serve as fundamental surfaces on which marks are made or picture panels hang. One of the walls in the exhibition has been painted so that it provides, both in its texture and colour, a point of reference. Opposite that wall, collage reliefs hang, consolidating the various elements in the show, drawing viewers' attention to the movements and reflections that are part and parcel of the entire installation as a whole.
©Verena Gamper, 2019
English translation: Deborah S. Phillips
More…
Less…
Biography
Sofie Thorsen
Lives and works in Vienna, Austria.

1971 born in Århus, Denmark
1993–94 School of Visual Arts, Budapest
1995–01 Det Kongelige Danske Kunstakademi, Kopenhagen
1999–01 Academy of Fine Arts, Vienna
2005–09 Artistic collaborator at the Academy of Fine Arts, Vienna (Performance Art und Sculpture)
Solo Exhibitions (Selection)
| | |
| --- | --- |
| 2019 | Relief, Krobath, Wien, A |
| 2017 | Appeared After Rain, Kunstbüro, A |
| | Whose Sleeves?, Anhava Galerie, Helsinki, FI |
| | Some Lines, Center for Energiadministration, Esbjerg, DK |
| 2015 | Ballspielwände, commisioned by BIG Art for |
| | BRG Rechte Kremszeile, Krems, A |
| | Ansicht, Schnitt,Mumok Kino, Wien A |
| 2014 | "Sofie Thorsen", Krobath Wien |
| 2013 | "Sofie Thorsen – Mosaic", House of Art České Budějovice, Budweis |
| | "Sofie Thorsen", Bank Austria Kunstforum, Wien |
| 2012 | "Sofie Thorsen – Schnitt A-A'", Kunsthaus Baselland |
| | "Sofie Thorsen – Schnitt A-A'", Kunsthaus Graz, Kooperation mit der Diagonale 2012 |
| 2011 | "Habitat", Kunstverein Düsseldorf, Düsseldorf |
| 2010 | "Leuchtend Grau", Kunstverein Langenhagen e.V., Langenhagen |
| | Krobath, Berlin |
| 2009 | "The Colourless Island", The Aarhus Art Building, Århus |
| | Krobath, Wien |
| 2008 | "Wenn wir da sind", Projekt Freizeichen, Mürzzuschlag |
| 2007 | Wandmalerei, Halle für Kunst, Lüneburg |
| | "Landmark", Kunst im öffentlichen Raum Niederösterreich, Oberleiserberg |
| 2005 | "162 von 172 Häusern stehen an der Hauptstraße…", Galerie für Zeitgenössische Kunst, Leipzig |
| | "The Golden Castle That Hung in the Air", Raster, Warschau |
| 1998 | "Window sill", rum 46, Århus (mit Elsebeth Jørgensen) |
| | Den Store Perlekæde, Kunstakademiets Udstillingsted, Kopenhagen |
More…
Less…
Group Exhibitions and Festivals (Selection)
| | |
| --- | --- |
| 2020 | Groupshow Krobath Wien, Wien (A) |
| | "Reflex Bauhaus. 40 objects – 5 conversations", Pinakothek der Moderne |
| | Die Neue Sammlung – The Design Museum, München, DE |
| 2019 | Konkrete Gegenwart, Museum Haus Konstruktiv, Zürich, CH |
| | Reflex Bauhaus, Die Neue Sammlung. The Design Museum, München, DE |
| 2018 | Yesterday, Today, Today, Kunstraum Buchberg, Schloss Buchberg, |
| | A VICE VERSA: Our Earth is their Moon, our Moon is their Earth |
| | m3 festival / Art in Space, Prague, CZ Wiener Raum, Heiligenkreuzerhof, Wien, A Collage, Krobath Wien, A |
| | Entends-tu ce que je vois ? Do you see what I hear?, Dazibao, Montreal, CAN |
| 2017 | Traces of Time, Leopold Museum, Wien, A |
| | ICH WEISS NICHT – Growing Relations Between Things, MAK /Vienna Biennale, A |
| 2016 | AWAY Exhibit – Stories from Abroad, Ehemaliges Post- und Telegraphenamt Vienna, A |
| | Make Space Between, Petra Gut Contemporary, Zürich, CH |
| | EMAK BAKIA, Krobath, Vienna, A |
| | "Beton", Kunsthalle Wien |
| | "Die Sprache der Dinge – Materialgeschichten aus der Sammlung", 21er Haus, Wien |
| | "Malerei im Raum ABSTRAKT – SPITAL", Kunsthalle Krems |
| | Forårsudstillingen 2016, Den Frie, DK |
| 2015 | Kinoprogramms Ansicht, Schnitt, MUMOK, Wien |
| 2014 | Modes of Democracy, Dox, CZ |
| | Architecture and Photography, Fotografisk Center, København DK |
| | "Family", IMO, København, DK |
| 2013 | The Collection #4, 21er Haus, Wien, A |
| | Open Studios, ISCP, New York |
| | Social Design, Galerie Emil Filla, Usti nad Labem, CZ |
| | "DISTURBING THE PIECE", Marta Herford, Gehry Galleries, Germany |
| | "Is My Territory", Curated By Monica Bonvicini, Christine König Galerie, Vienna |
| | "The Vienna Model – Housing For The 21st Century City", Austrian Cultural Forum, New York, USA |
| | Thorbjørn Bechmann og Sifie Thorsen: IG 383 and The Play Sculptures, Overgaden. Institute of Contemporary Art, Kopenhagen |
| 2012 | "Spiele der Stadt Wien", Wien Museum |
| | DLF 1874: DIE BIOGRAFIE DER BILDER – EINE INVENTUR DER VORAUSSETZUNGEN Halle 14. Leipzig, DE |
| | Art after 1900, Statens Museum for Kunst, København DK |
| | Große Jahresgabenausstellung 2012, Kölnischer Kunstverein, Köln, DE |
| | "An_Eignungen", Kunstverein Langenhagen, Germany |
| | "Dansk Og International Kunst Efter 1900", Statens museum for kunst, Copenhagen |
| 2011 | Schöne Aussichten, 21er Haus, Wien, A |
| | Kardinal-König Kunstpreis, Kunstraum St. Virgil, Salzburg, A |
| | Generationenstadt, Kunsthaus Muerz, Mürzzuschlag A |
| | "Taktiken des Wilderns", Salzburger Kunstverein |
| | "Vermessung der Welt – Heterotopien und Wissensräume in der Kunst", Kunsthaus Graz, Universalmuseum Joanneum |
| | "Beziehungsarbeit – Kunst und Institution", Künstlerhaus Wien |
| | "PASJA ORNITOLOGA. TWORZENIE MITU" – kuratiert von Adam Budak |
| | Galeria Sztuki Współczesnej BWA SOKÓŁ |
| | "Space Oddity" – kuratiert von Friederike Nymphius, Andratx, Art Foundation Mallorca |
| | "PUZZLE – Die Sammlungsausstellung 2010", Galerie für Zeitgenössische Kunst, Leipzig |
| | "The Achromatic Island", Diagonale – Festival des österreichischen Films, Graz |
| 2010 | "Die Welt als Kulisse", Galerie im Taxispalais, Innsbruck |
| | "Das Dorf", Kunsthaus Langenthal |
| | "High Ideals & Crazy Dream", Vera Munro, Hamburg |
| 2009 | "PROVISORISCHES YOGA", Grazer Kunstverein, Graz |
| | "Forschungsstationen", Kunstverein Langenhagen e.V., Langenhagen |
| | "SOZIALER RAUM – KünstlerInnen und der Wiener Gemeindebau", Temporary Space, Wien |
| | "FIFTY FIFTY" Kunst im Dialog mit den 50er-Jahren, WIEN MUSEUM Karlsplatz, Wien |
| | "STILL / MOVING / STILL", Internationaal VIDEO FOTO festival KNOKKE HEIST, Cultuurcentrum Knokke-Heist, Belgien |
| | "fake or feint – sechs Szenarien zu taktischen Markierungen: Scenario 2" Kaucyila Brooke, Sofie Thorsen / Katharina Lampert, Berlin Carré, Berlin |
| 2008 | "The Artist as Troublemaker", ACF ny – Austrian Cultural Forum, New York |
| | "Wunderkammer Lüneburg – Jahresgaben 2008", Halle für Kunst, Lüneburg |
| | Overdragelse, Overgaden. Institut for Samtidskunst, Kopenhagen |
| | "Zero Gravity – The architecture of social space", Center for contemporary art, Plovdiv |
| | "Land of Human Rights: At the Limits of the Thinkable", Galerie Emil Filla, Ústí nad Labem |
| | "Bela Kolárová, Falke Pisano, Janice Kerbel, Sofie Thorsen", Galerie Krobath Wimmer, Wien |
| | "Nothing to Declare", 4. Triennale Zeitgenössische Kunst Oberschwaben, Zeppelin Museum, Friedrichshafen |
| | "Post-it cities", CCCB – Centre de Cultura Contemporània de Barcelona |
| | "Land of Human Rights: An der Grenze des Denkbaren", Rotor, Graz |
| 2007 | NMWA's 20th Anniversary Festival of Women's Film & Media Arts, NMWA, Washington DC |
| 2006 | "STORYLINES", Centre d'art Passerelle, Brest |
| | "Public Dreams", Usti nad Labem |
| | 10. Internationale Kurzfilmtage Winterthur |
| | Fourth Annual San Diego Women Film Festival, San Diego |
| | 15. dokumentART, Neubrandenburg |
| | "Kolonialismus ohne Kolonien? Beziehungen zwischen Tourismus, Neokolonialismus und Migration. Drittes Kapitel", Shedhalle, Zürich |
| | "STORYLINES", Kunstraum München, München |
| | Hamburg International Short Film Festival, Hamburg |
| | "Crossing Europe 06", Linz |
| | "Best of Diagonale", Graz |
| | Diagonale 06 – Festival des Österreichischen Films, Graz |
| | "Kolonialismus ohne Kolonien? Beziehungen zwischen Tourismus, Neokolonialismus und Migration. Zweites Kapitel", Shedhalle, Zürich |
| | "STORYLINES", Kunstverein Göttingen |
| 2005 | "Scanbul Connection", Istanbul |
| | "GU.Sicht – Graz Umgebung– Produktion einer urbanen Landschaft", Grazer Kunstverein, Graz |
| | "STORYLINES", Public >, Paris |
| | "Moving Target", Kluuvi Gallery, Helsinki (mit Mads Lynnerup) |
| | Festival der Regionen, Oberösterreich |
| | "TRAVELLING EYE – fotografie im urlaub", Quartier 21 im MQ, Wien (mit Elsebeth Jørgensen) |
| | "Opacity", UKS, Oslo |
| | "Ude og hjemme", Overgaden, Kopenhagen |
| 2004 | "Stafet", Esbjerg Kunstmuseum, Esbjerg |
| | "Paravent", Artothek, Kunsthalle Krems |
| | "Non-Standard Cities", Schlachthöfe, Berlin |
| | "Backstages", Forum Stadtpark, Graz |
| | "Shrinking Cities", KunstWerke, Berlin |
| | "Born to be a Star", Künstlerhaus Wien, Wien (mit A Room of One's Own) |
| | "bb3", KunstWerke, Berlin (mit A Room of One's Own) |
| 2003 | "Mothers of Invention", Mumok Factory, Wien (mit a Room of One's Own) |
| | "Trautes Heim", Galerie für Zeitgenössische Kunst, Leipzig |
| | "Out to Grass", Koch und Kesslau, Berlin |
| | "drinnen ist's anders", Kunsthalle Exnergasse, Wien |
| | "Total motiviert – ein soziokulturelles Manöver", Kunstverein München, München |
| | "Boring Boring Boring", Ron Mandos Gallery, Rotterdam |
| | "Home Sweet Home", Århus Kunstmuseum, Århus (mit Elsebeth Jørgensen) |
| 2002 | "Public Plaiv – Art contemporauna illa Plaiv", Gegenwartskunst im Landschafts- und Siedlungsraum La Plaiv |
| | "site-seeing: disneyfizierung der städte?", Künstlerhaus Wien, Wien (mit Elsebeth Jørgensen) |
| | "artchitecture", Galerie Jaroslava Fragnera, Prag |
| | "Sub-Urban2, loop – raum für aktuelle kunst, Berlin |
| | "Ingrepp", Uppsala Konstmuseum, Uppsala (mit Elsebeth Jørgensen) |
| | "Brøl", København Zoologisk Have, Kopenhagen |
| | Art Primeur, CBK Dordrecht |
| | Fotofest, Houston |
| | "Sub-Urbane Modelle", Galerie der Stadt Schwaz |
| | "Non-places", Frankfurter Kunstverein, Frankfurt |
| | "Das Experiment 2B", Secession, Wien (mit a Room of One's Own) |
| 2001 | "KOSMOS", Rooseum, Malmø |
| | "Sous le pont, le long de la rivière", Casino Luxembourg – Forum d'art contemporain, Luxembourg (mit Elsebeth Jørgensen) |
| | "What's an Academy", Akademie der Bildenden Künste, Wien |
| | "Exit 2001", Diplomausstellung, Det Kongelige Danske Kunstakademi, Kopenhagen (mit Elsebeth Jørgensen) |
| | "Das Experiment 2A", Secession, Wien (mit a Room of One's Own) |
| | "Agitpop", Posterprojekt, Kopenhagen (arrangiert von Nam Nam Beauty) |
| 2000 | "Efterårsudstillingen", Charlottenborg, Kopenhagen (mit Elsebeth Jørgensen) |
| | "På Hovedet", Hovedbiblioteket, Kopenhagen (kuratiert von Thorgej Hansen & Sophus Ejler Jepsen) |
| | "Use your illusion", Arnolfini Gallery, Bristol (mit Elsebeth Jørgensen) |
| | "her er værket – OTTO i Rhizom", Rhizom, Århus |
| | "Just Like a Movie", Kopenhagen (mit Elsebeth Jørgensen) |
| | "Zeit im Bild", Akademie der Bildenden Künste, Wien |
| | "Models of Resistance", Overgaden, Kopenhagen (mit Elsebeth Jørgensen) (arrangiert von by Globe) |
| | Artgenda 2000, Helsinki (mit Elsebeth Jørgensen) |
| | "1.maj", Stockholm (mit Elsebeth Jørgensen) (arrangiert von AV-mobil) |
| 1999 | "Dispensing with Formalities", Kopenhagen (mit Elsebeth Jørgensen) (arrangiert von Recent Works & Brett Bloom) |
| | "¡Hasta La Vista!", Kopenhagen (mit OTTO) |
| | "I love nature", Kopenhagen (mit Elsebeth Jørgensen) (arrangiert von by OTTO) |
| | "Polka Project", Frederiks Bastion, Kopenhagen |
| | (mit Elsebeth Jørgensen) (arrangiert von Volume) |
| | "OTTO", xart hybrid, Kopenhagen (arrangiert von OTTO) |
| 1998 | "Undskyld hr. Frikadelle", Frederiks Bastion, Kopenhagen (mit Jes Brinch, Mads Stehen, Peter Holmgård) |
| | "Bad Hash", Clausens Kunsthandel, Kopenhagen |
| | "Kørners Kontor", Kørners Kontor, Kopenhagen |
| | "Kontor", Kørners Kontor, Kopenhagen (mit Åsa Frankenberg) |
| | "Boomerang", Nikolaj Copenhagen Contemporary Art Center, Kopenhagen (mit Elsebeth Jørgensen) |
| 1997 | "Kælder", OTTO, Kopenhagen |
| | "Den Skøre Skov", Kom de Bagfra, Kopenhagen (mit Jes Brinch, Mads Sten, Peter Holmgård) |
| | "In and around the woods + The Screen", Sørup (mit Elsebeth Jørgensen) |
| | –, Kom de Bagfra, Kopenhagen (mit Åsa Frankenberg) |
| | "Alle kanonerne", Rådskælderen, Charlottenborg, Kopenhagen (mit Åsa Frankenberg) |
| 1997–2003 | Zusammenarbeit mit | collaboration with Elsebeth Jørgensen |
| 2000–2005 | Zusammenarbeit mit der Künstlerinnengruppe | collaboration with the feminist artist group A Room of One's Own |
| 1997–2001 | Mitgründerin vom Ausstellungsraum OTTO | cofounder of the artist run exhibition-space OTTO, Kopenhagen (mit Lilibeth Cuenca Rasmussen, Jeppe Hein, Eske Kath, Marie Rømer Westh og Tine Bundgaard) |
More…
Less…
Awards and scholarships
2017
Dagmar Chobot Skulpturenpreis
Arbejdslegat, Statens Kunstfond
2016
ISCP New York, sponsored by Statens Kunstfond
2013
ISCP New York, sponsored by BKA
2011
3-årigt arbejdstipendium, Statens Kunstfond
Diagonale-Preis Innovatives Kino der Stadt Graz
Lobende Erwähnung: Sofie Thorsen für The Achromatic Island
2009
Förderpreis der Stadt Wien
2008
Arbejdslegat, Statens Kunstfond
2007
Arbejdslegat, Statens Kunstfond
Atelierstipendium, BKA, Tokyo
2006
Arbejdslegat, Statens Kunstfond
2005
Arbejdslegat, Statens Kunstfond
2004
Österreichisches Staatsstipendium
2002
Blinky-Palermo-Stipendium
2001
Anni und Heinrich Sussmann Stiftung
2000
Ragnvald og Ida Blix Fond
1999
Fundation Idella
More…
Less…
Publications
| | |
| --- | --- |
| 2016 | Heike Eipeldauer, Sofie Thorsen (Hrsg. | eds.): Sofie Thorsen – Play Sculptures |
| | Verlag Moderne Kunst, Wien |
| 2013 | Sofie Thorsen – The Achromatic Island, Space Poetry, København |
| 2012 | Peter Pakesch, Sabine Schaschl, Katrin Bucher, Katia Huemer (Hrsg. | eds.): Sofie Thorsen. Schnitt A – A', SilvanaEditoriale, Milano 2012 |
| 2010 | Sofie Thorsen – The Achromatic Island, Revolver Publishing by VVV, Berlin |
| 2009 | Sofie Thorsen – The Expert / Afternoon in the Uganda Forest, Pork Salad Press, Copenhagen |
| 2007 | Sofie Thorsen – Village fig., Sofie Thorsen, Julia Schäfer (Hrsg. | eds). Galerie für Zeitgenössische Kunst, Leipzig, Revolver – Archiv für aktuelle Kunst, Frankfurt am Main |
| 2005 | The Golden Castle That Hung in the Air, Marianka Dobkowska (Hrsg. | ed.), CSW Zamek Ujazdowski + Raster, Warsaw, 2005 |
| 2001 | Sofie Thorsen, Elsebeth Jørgensen – Window-sill, Space Poetry |
| | Reol, by OTTO (Hrsg. | ed), Borgen |
More…
Less…
Bibliography
| | |
| --- | --- |
| 2019 | Eva Maria Stadler: Im Stil ist das Spiel das Ziel, in: Reflex Bauhaus. 40 Objects – 5 conversations, Angelika Nollert (Hrsg. | ed.), Verlag der Buchhandlung Walther König, Köln 2019 |
| | Christina Nägele: Whose Sleeves? in: Konkrete Gegenwart, Sabine Schaschl et. al, (Hrsg. | ed.), Verlag für Moderne Kunst, Wien 2019 |
| 2017 | Stephanie Damianitsch: Sofie Thorsen in Spuren der Zeit, Stephanie Damianitsch, Hans-Peter Wipplinger (Hrsg. | ed.), Verlag der Buchhandlung Walther König, Köln |
| | Elsy Lahner: Zeichnung im Fokus der Gegenwartskunst, in: Parnass, 1/17 |
| 2016 | Ilse Lafer: SOFIE THORSEN: WHOSE SLEEVES?, in ABSTRAKT – SPATIAL. Malerei im Raum, Verena Gamper (Hrsg. | ed.), Verlag Moderne Kunst, Wien |
| | Elisabeth Krimbacher : Sofie Thorsen in: Parnass, 1/16 |
| 2014 | Caroline Lillian Schopp: Sofie Thorsen in: Artforum Summer 2014 |
| | Bettina Brunner: Sofie Thorsen, in Frieze d/e Juni – August 2014 |
| | Sabine B. Vogel: Interview, Sofie Thorsen, In: Kunstforum Bd. 229 Oktober – November 2014 |
| 2013 | Johanna Hofleitner. Schnitt durch den Raum in: Schaufenster |
| 2012 | Sønke Gau: Sofie Thorsen, ‹Schnitt A-A', in: Kunstbulletin 7/8, 2012 |
| | Simon Baur: Das Wilde Denken, in: Neue Zürcher Zeitung Feuilleton 070712 |
| | Simon Baur: Ambivalente Inselerlebnisse, in: Basellandschaftliche Zeitung, 23. Mai, 2012 |
| | Margit Neuhold: Schnitt A-A' / Cut A-A', in Camera Austria 118, 2012 |
| 2011 | Frauentag! Erfindung und Karriere einer Tradition, Heidi Niederkofler, Maria Mesner, Johanna Zechner, (Hrsg. | eds): Löcker Verlag, Wien 2011 |
| | Räume des Verhandelns/Negotiating Spaces. Paul Grundei, Stephanie Kaindl, Christian Teckert und Barbara Steiner (Hrsg. | eds):, Jovis 2011 |
| | Bettina Maria Brosowsky: Sofie Thorsen: The Achromatic Island. In: Bauwelt 3.2011 |
| 2010 | Ny Dansk Kunst 10, Anna Holm & Torben Zenth (Hrsg. | eds). Kopenhagen Art Institute, København 2010 |
| 2009 | Land of Human Rights, Artistic Analyses and Vision of the Human Rights Situation in Europe. Anton Lederer, Margarehe Makovec (Hrsg. | eds). Revolver by VVV, Berlin 2009 |
| | Kunst im Öffentlichen Raum Steiermark, Projekte 2007-2008. Werner Fenz, Evelyn Kraus, Birgit Kulterer (Hrsg. | eds) Öffentliche Kunst, Kunst im öffentlichen Raum Niederösterreich, Band 9. Ed. / Katharina Blaas-Pratscher, SpringerWienNewYork, St.Pölten 2009 |
| | herbst. Theorie zur Praxis, Steirischer Herbst, Graz, 2009 |
| | Verena Doerfler: "Village fig." – Lebens(t)raum im Kunstformat. Zur Werkreihe Village fig. der Künstlerin Sofie Thorsen. In: Architese 3.2009 |
| | Pigiarniq 05/09, Vienna |
| 2008 | Pist Protta, nr. 62., Space Poetry, Copenhagen |
| 2006 | Nybrud – dansk kunst i 1990erne, Rune Gade & Camilla Jalvig Aschehoug, Copenhagen |
| | Leap into the City. Chişinặu, Sofia, Pristina, Sarajevo, Warsaw, Zagreb, Ljubljana, Katrin Klingan u. Ines Kappert (Hrsg. | eds), DuMont, Cologne |
| | Art and its Institutions, Nina Möntmann (Hrsg. | ed), Black Dog Publishing, London |
| 2005 | Sønke Gau: Sofie Thorsen. Fertighausträume / Prefab Dreams. In: Camera Austria, issue 92/05 |
| | Brigitte Schulz: 162 von 172 Häusern stehen an der Hauptstraße… In: Bauwelt 39/05 |
| | Festival der Regionen 2005 – Geordnete Verhältnisse, Martin Fritz, Peter Arlt |
| | Trautes Heim, (Hrsg. | eds). Galerie für Zeitgenössische Kunst, Verlag der Buchhandlung Walther König, Cologne |
| | Gesammelte Drucksachen, Ed. Kunstverein München, Revolver, Munich |
| 2004 | Dansk Fotografihistorie, Mette Sandby (Hrsg. | eds), Gyldendal |
| | Udsigt. Feministiske strategier i dansk billedkunst. Kvinder på Værtshus (Hrsg. | eds), Informations forlag, Copenhagen |
| | Schrumpfende Städte. Band 1: Internationale Untersuchung, Philipp Oswalt, Hatje Cantz (Hrsg. | eds), Ostfildern-Ruit |
| | Julia Schäfer: Trautes Heim / Cosy Home: Interviews with Pia Lanzinger, Moira Zoitl, Isa Rosenberger, Sofie Thorsen and Dorit Margreiter. In: n.paradoxa: international feminist art journal, Nr. 13 Domestic Politics, January |
| 2003 | Drucksache Fall 03, Kunstverein München, Munich |
| 2002 | Public Plaiv – Art contemporauna illa Plaiv, Christoph Schenker (Hrsg. | ed.) Hochschule für Gestaltung und Kunst, Zurich |
| | Migrants, Ivana Keser (Hrsg. | eds) |
| 2000 | nu er det nok, så er det sagt!, Rosinante, Copenhagen |
| | Mare Articum – The Baltic art magazine, issue 2 (7) |
| | Pist Protta, Nr. 38, Space Poetry, Copenhagen |
| 1997 | Magasin Schäfer, Nr. 6 + 7, Copenhagen |
| 1996 | Magasin Schäfer, Nr. 5, Copenhagen |
| | Art-land, vol. 2 + vol. 3, Copenhagen |
| | |
| | |
| | |
More…
Less…